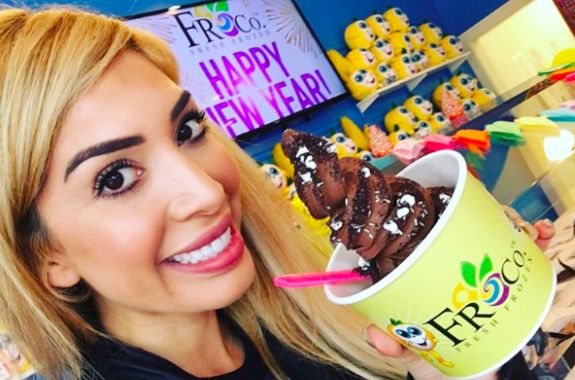 Two years after Farrah Abraham cut the ribbon on her Froco yogurt shop, the Texas-based business has shuttered.
Starcasm broke the story of the shop's closing after one of the site's writers visited the Lakeway, Texas, location and found the store shut down.
"Not only was the business closed, but much of the interior elements had been dismantled and packed up," Starcasm reported, adding that the Froco logo had even been scrapped off the business' door.
Starcasm posted photos from inside the yogurt shop (which, in its hey-day was seen frequently on 'Teen Mom OG'). The shop's tables and chairs were stacked up, next to boxes and a sad trashbag full of stuffed Cobas, the shop's "Poppin' Boba" mascot.
"We spoke with another tenant who was informed by the [building's] property owner that the Froco space would be available at the beginning of August," Starcasm reported. "We were also told that there was a camera crew filming late last week, but given that Farrah is no longer a part of 'Teen Mom OG,' it's unclear just who was filming or why."
It has since been discovered that Farrah was likely filming footage that will be used in her 20-video "Master Class on Entrepreneurship" class, which she announced earlier this week.
Farrah's father, Michael Abraham, (sort of) confirmed the closing of the store to Starcasm, stating that Farrah is now focusing on getting her yogurt into grocery stores… or something.
"All is good in Froco land," Michael (who, as you may remember, often got stuck wearing the Coba de Boba Froco mascot costume) told the site. "Farrah's lease expired and Farrah is taking her Froco brand to the next level: into grocery store food chains and other select stores. This has been in the works for a while, along with a few other business ideas coming out."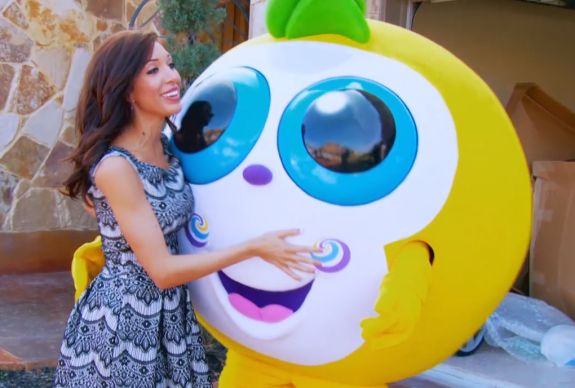 After Michael, spoke to the media, Froco updated it's Instagram account to reflect the changes. Although the Froco social media accounts did not specifically state that the brick-and-mortar shop is closed, it did indicate that the company is moving in a different direction.
"Coba is on to his next project," a caption read. "Frozen yogurt in stores! We're excited! Less stops!"
Let's Gooooo! #frozenyogurt #froyo #boba #coba pic.twitter.com/wuKvhnfP4M

— Froco (@FroCoCoba) July 3, 2018
During its two years in business, Froco experienced various problems. In 2016, the shop's Yelp page was overrun with negative reviews, with some Yelpers stating that they didn't feel it was appropriate for someone who had starred in adult films to run a family-friendly establishment.
Later that year, viewers watched as Farrah's problems with Froco employees played out on an episode of 'Teen Mom OG.'
In 2017, Farrah was (hilariously) caught writing the shop a positive review (and congratulating herself for being an awesome owner…as you do) on Google.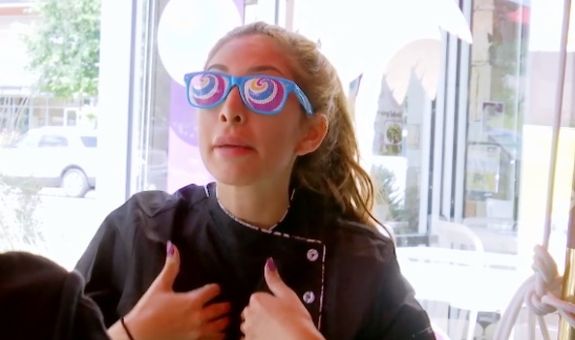 Farrah has yet to actually address the shop's closing publicly. However, rumors have been floating around for months that the former 'Teen Mom OG' star is experiencing money problems. Farrah & Co. have denied that there is any truth to the rumors, however.
Farrah's other businesses in Lakeway, Furnished By Farrah and Sophia Laurent Children's Boutique, are still open.
RIP, Froco! We hardly knew ye….
In memory of Froco, watch this video of Farrah forcing her dad to wear the Froco Coba de Boba mascot costume.
UPDATE! In an Instagram post on Thursday, Farrah confirmed that Froco has closed its doors. In the caption of a photo of her and her daughter Sophia at Froco's 2016 opening, Farrah used "Farrah Speak" to congratulate herself on a job well done.
"#TBT what an amazing Throw Back Thursday! My first company dream brought to life, after first location fail to second location success, creating a mascot in factories, bringing employment to this city, growing the community, sponsoring sports teams, cancer events, bringing thousands of families together. As a public figure I made it possible and it has now taken my passion to the next level so I thank the supporters, the customers& the haters as we move from brick and mortar to large distribution on my proven company concept! It's been a learning experience I'll treasure the rest of my life. I look forward to sharing more on my MASTER CLASS THIS JULY & BUSINESS BOOK ON IT'S WAY"
(Photos: MTV, Instagram)