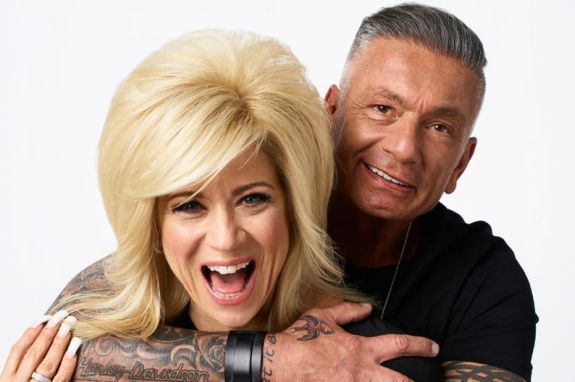 The Long Island Medium's long marriage is over!
Radar Online is reporting that the show's star, Theresa Caputo, has officially filed for divorce from her husband of 28 years, Larry. The divorce papers were reportedly filed back in April, four months after Theresa and Larry announced publicly that they were separating.
"After 28 years of marriage, we have decided to legally separate," the two said in statement issued to Us Weekly back in December 2017. "We will always love each other and our two wonderful children. We are united in supporting each other and our family. Please respect our privacy during this time."
Last month, Larry told TMZ that he and Theresa were moving forward with the official divorce.
"The separation was a three-month trial period and we've moved on from that point. We're in divorce proceedings," he told the site. "That's been going on for the last six months. It's not finalized. I don't know when it will be. But that's where we're at."
Larry also mentioned that he is dating again.
"I have moved on. I'm fortunate enough to say that I have met someone special. But I'll just leave it for that now," Larry told TMZ on June 26. He added that he doesn't know if he will continue to appear on 'Long Island Medium' going forward.
"I honestly don't know if I'll be involved anymore."
In April–the same month the divorce papers were filed– Theresa told Extra that she and her soon-to-be-ex-husband were living on different coasts.
"So right now, Larry is living in L.A. and I'm here in New York, and we're just taking it day by day," she said. "It's an adjustment, but I'm OK."
Radar Online reports that Theresa has hired a high-powered New York attorney to represent her in the divorce and protect her $3 million fortune, much of which was made from appearing on 'Long Island Medium.'
In June, Larry told Radar that the reality show contributed to the couple's split.
"[The show was] exciting and fun in the beginning, but then after the longevity you become more exposed, now it effects your private life," he said. "When you're in the public eye, it does put a strain on your personal life.
"That can be hard for the average person who is not a trained actor, because a trained actor knows what they're getting themselves into," Larry told the site. "A reality person doesn't realize what they're getting themselves into, until they're in it and it's a learning process. What Theresa does is very demanding, and it was consuming most of her time — which takes away from personal time."
Watch Larry talk about the divorce proceedings with TMZ in the video below:
(Photos: TLC, Instagram)