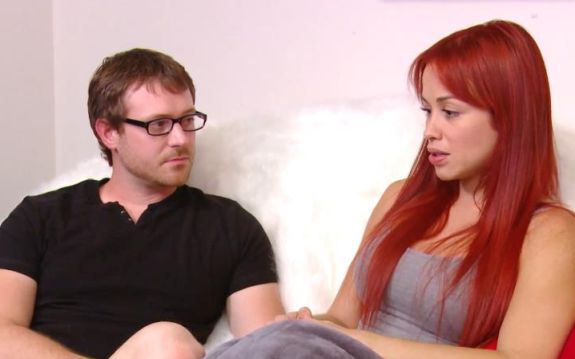 After spending multiple seasons of TLC's 90 Day Fiance complaining about his wife's risqué modeling, Russ Mayfield took to Instagram over the weekend to insist that he isn't the jealous prude that some of the show's fans think he is.
In the photo caption of an Instagram pic showing off his wife Paola's ample, um, ASSets, Russ told "90 Day Fiance" fans that, while he's not thrilled that Paola frequently models skimpy outfits, he's OK with it… sort of.
"There's much more to me than what you see on TV," Russ wrote. "I'm honestly not the jealous type and although I'd had preferred to keep my wife's curves a mystery, especially when it comes to the lusting creeps out there. I accept and am proud of my wife for the beautiful woman she is and she's all mine but like most relationships, we find ourselves with differing opinions at times and love costs and takes effort for it to work."
Russ also shot back at the "haters" who frequently tell him his marriage is doomed, based on what they see on 90 Day Fiance: Happily Ever After?
"I am tired of the comments from the marriage 'experts' stating that I deserve better, my wife doesn't respect me, or she only like loves me for my money and so on and so forth." Russ wrote before addressing the frequent comment he apparently gets from viewers who feel he is too boring for Paola (or reality TV).
"If I or my story bores you and creating a mocking meme or mocking comment of me and/or my wife is how you make yourself feel better about your unshared and perfect life, well thank you for your benightedness as it only spices us up even more, so go on and keep hating and commenting to better your dull lives because your opinions are meaningless in my eyes," he wrote.
Paola also recently made a post to clap back at the haters. Naturally, she included a picture of herself in a skimpy bikini in the Instagram post.
"Did my husband ever get over me taking pics like this? Well, yes and no but it doesn't affect him as much as some of you," Pao wrote. "He accepts me, loves me, and respects me the way I am and lets me work even when he's not 100% comfortable."
Paola said her "conscience is clean and clear" and she's "just happy [to be] doing great and chasing her dream."
She also scolded viewers who criticize her for modeling skimpy clothes and bikinis against her husband's wishes.
"[People] talking about me not being a 'good wife' just because the gigs I take are 'too sexy' but let's be honest, none of you have seen photos of me completely naked or rumors of me being unfaithful to my husband. My only 'sin' is my work," Paola wrote.
Russ and Paola, who we first met during "90 Day Fiance" Season 1, will celebrate their fifth wedding anniversary in October. They are staring on the current season of "90 Day Fiance: Happily Ever After?"
Click here to read our "90 Day Fiance: Happily Ever After?" Season 3 recaps!
(Photos: TLC, Instagram)