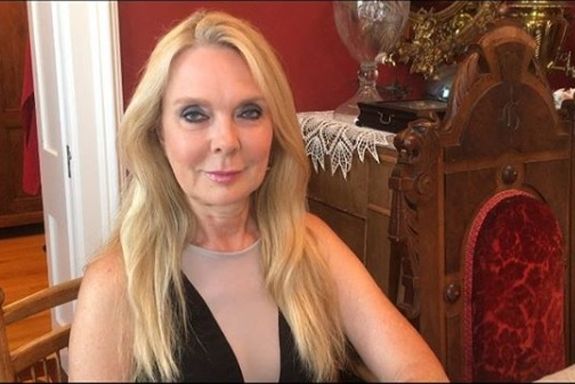 Teen Mom OG star Debra Danielson says she will do whatever it takes to make sure her granddaughter, Sophia Abraham, is safe–even if it means seeking legal custody of the child.
"I would go after Sophia in a heartbeat to save her and to make her happy," Debra exclusively told The Ashley's writer Holly in a sit-down interview at Deb's Iowa home. "Sophia loves me no matter what brainwashing other people do to her. That harms her and you shouldn't use a child as a battleground."
Debra, who told The Ashley she has political aspirations herself, said that she doesn't believe the laws in this country are conducive to protecting children.
"I think that if people are harming children by separating them from the people they love, the people who have been there for them, then we ought to allow our courts to get in there and save that child," Deb said.
"In the United States of America, we do not protect children or children's rights," she added.
Debra told The Ashley that people contact her constantly to ask for advice on their own custody issues and to urge her to fight to get Sophia away from her mother, Farrah Abraham. (As The Ashley has reported, Farrah has made plenty of questionable parenting choices in the nine years since Sophia's birth.)
Deb explained that she helped care for Sophia for most of the girl's life, and the two shared a close bond. However, after Farrah and Debra's own relationship went south, Deb was not allowed to maintain a relationship with her granddaughter.
"When you separate a child from the main caregiver, the sole caregiver, that's their security, that's their mental stability and suddenly you plunge them into a different environment and say bad things about these people, that's not helping," Deb said. "That's not good for anybody. I don't condone that. I don't care if it's a divorce. I don't care if it's grandparents. I don't care if it's anybody. That's not good for the child."
Debra said she worries about the fast lifestyle that Sophia is living with Farrah. (In recent months, Sophia and Farrah have attended plenty of red carpet events, and traveled to places like Dubai, Cannes and Bora Bora.)
"I just think that Sophia is doing a lot of travelling and through different time zones," Debra said, adding that she'd like to give Sophia a more solid lifestyle.
"She needs some stability and children need a place to call home and some stabilization and I think Sophia would really benefit from that," Debra said.
Debra said that her ultimate goal is to repair her relationship with Farrah, so she can have her daughter and granddaughter back in her life.
"I just love Farrah and I support her and I hope that she comes around and I want her and Sophia in my life," she said.
Farrah's father (and Deb's ex-husband) Michael Abraham had previously warned Debra not to try to go for custody.
"If Debra takes that route [of seeking custody of Sophia] she will be only making the divide between her and Farrah only worse," Michael told The Ashley last month. "If Debra wants to be able to see the girls (Sophia), Debra needs to look at herself and change."
Stay tuned for more from The Ashley's exclusive interview with Debz OG!
(Top photo: The Ashley; Bottom photo: Instagram)