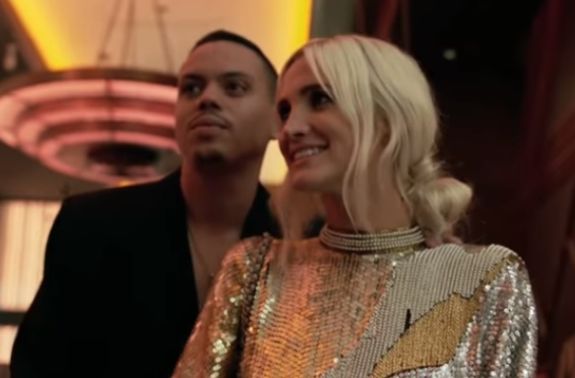 Ashlee Simpson and her husband Evan Ross—aka the sister of Jessica and son of Diana, respectively, for those ready to drop a "who?" in the comment section—are joining the world of reality television with their new E! docudrama, Ashlee+Evan.
We'll give you a moment to calm down from the excitement this news surely brings…
Anyway, according to the new trailer posted by Us Weekly, 'Ashlee+Evan' will focus on the couple as they navigate life as parents while writing and recording their first duet album.
"It's a lot more like a documentary than a reality [show], the way we show it at least," Evan told Us Weekly. "It was something that we created that we ended up pitching. It wasn't something that was given to us. It was something that we executive-produced, decided what we were really trying to do and go behind it."
Of course, this isn't Ashlee's first time in front of the reality show cameras. Fellow reality-show fiends may recall watching the horror that was The Ashlee Simpson Show on MTV back in the day. The fright-fest of a reality show ran for two seasons from 2004 to 2005 and largely focused on Ashlee's musical career as she recorded and released her debut album, "Autobiography."
The show also featured Ashlee's mom Tina, dad/manager Joe, then-boyfriend Ryan Cabrera (along with his super spiky and blond-tipped hair… #NeverForget). Big sister Jessica even popped up on a couple of episodes of the show.
Sadly, 'The Ashlee Simpson Show' failed to show Ashlee's greatest contribution to pop culture to date: the lip-syncing/hoe-dancing fiasco that was her Saturday Night Live performance.
Ashlee took a break from the entertainment world in 2009 to raise her son Bronx, whom she shares with ex-husband Pete Wentz. She and Evan tied the knot in 2014 and are parents to 2-year-old daughter, Jagger Snow. While Ashlee has stayed out of the spotlight in recent years, Evan has stayed relatively busy as an actor, most notably appearing in the "The Hunger Games: Mockingjay, Part 1 and Part 2," as well as Fox's Star.
On 'Ashlee+Evan,' viewers will see Evan focus more on his music—something his wife already knows a thing or two about.
"Ashlee's super talented, she's had an incredible career," Evan says in the trailer. He also jokingly asks her, "Do you even know the movies I've done?"
We also see Ashlee impart some wisdom on her husband.
"You've never done this before. If you make a mistake, you can never f**king take that back," she warns him. (Again, see: Saturday Night Live Hoedown.)
And speaking of things that went wrong, here's hoping that Ashlee's new show won't follow in the same footsteps as those of Jessica and now ex-husband Nick Lachey who appeared on MTV's Newlyweds: Nick and Jessica from 2003-2005. The married musicians' reality show aired its season finale in March 2005 and nine months later, the two had filed for divorce, with many speculating the show was to partially to blame for their split.
'Ashlee+Evan' premieres Sunday, September 9 on E!
Watch the show's trailer below:
(Photo: E!)