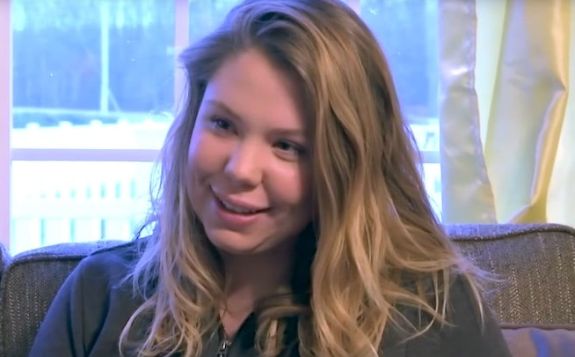 Kail Lowry is planning to go back under the plastic surgeon's knife and have surgery on her breasts! However, unlike a lot of the Teen Mom franchise stars who have had breast enlargements, Kail is hoping to have some of her ample bosom removed!
During the most-recent episode of her Coffee Convos podcast, the Teen Mom 2 star confessed that she may be getting breast reduction surgery as early as next month.
"They're massive!" Kail said of her breasts. "It weighs me down. I already have bad posture and my boobs add to it."
Kail's co-host Lindsie Chrisley agreed that Kail's super-sized knockers need to be reduced.
"It will be such a relief for you though because yours are so big!" Lindsie told her.
Kail told listeners that she is currently wearing a 36 DDD bra, but was surprised when she recently measured at a 44 DDD.
"When my trainer came here the other day, he took all my measurements to do the weight loss stuff, he went to measure my chest and stuff too, checking everything," she said. "When he took my measurements, it was 44 inches! I don't think I'm even wearing the right size bra. I don't even think there is a 44 DDD. I'm so big and I'm super nervous and hopeful that I can get the surgery."
This is not the first time Kail has mentioned that she wants to have her breasts sized down. After a fan tweeted her in March to let her know that her boobs looked "massive," Kail agreed with the fan (before telling her to f**k off, naturally).
Skydive Hawaii ???? @TM2LeahDawn pic.twitter.com/yB8FXa8cTx

— Kailyn Lowry (@KailLowry) March 7, 2018
"My t**s are just too big and I can't wait to get a reduction," Kail tweeted.
In January, Kail traveled to Florida to have liposuction and a boob job done by Plastic Surgeon To The 'Teen Moms', Dr. Miami, but she backed out of the surgeries on the day she was set to go under the knife.
"When I get home I'll use the money I was [going to] spend on surgery for a nutritionist & get back into working out," she tweeted after revealing her cancelled surgery plans.
It appears that Kail has done just that. During recent episodes of Coffee Convos, Kail has discussed her workouts with a personal trainer, and how her large breasts are making it hard for her to work out.
"I'm having a really hard time with sports bras and I don't know if it's just me or that my tits are so massive that I just need a reduction," Kail said on the podcast in May. "I'll run or do box jumps and my whole boob will come out of a sports bra. I'll look down and my nip is out."
If Kail does go through with the breast reduction surgery, she will be the first 'Teen Mom' star to actually have her breasts downsized instead of inflated.
Listen to the full episode of Kail's Coffee Convos podcast below!
(Photos: MTV, Instagram, Twitter)