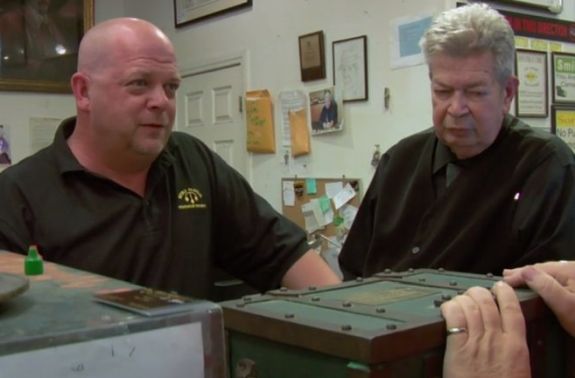 The will of late Pawn Stars patriarch Richard Harrison has been read, revealing what "The Old Man" left to each of his sons. It won't be hard for his youngest son Christopher to keep track of what his famous father left him…since he's not getting a darn thing!
The Blast broke the news on Tuesday that Richard's will specifically states that Christopher is not to benefit from his estate.
As The Ashley previously told you, Richard—known to fans of the History Channel show as "The Old Man"—passed away last month at the age of 77 after losing his battle with Parkinson's disease.
News of the 'Pawn Stars' patriarch's passing was revealed in a message posted to the World Famous Gold & Silver Pawn website and at the time, Richard's son (and co-owner of the pawn shop), Rick Harrison, released a statement of his own, in which he called the Old Man his hero and praised him for being a family man.
Nearly a month later, the Harrison family is in the news again, this time for the contents of Richard's will, which, according to The Blast, was updated in 2017 to specifically cut Christopher out of the estate.
"I would like to express my love and affection for Christopher Keith Harrison; however, for purposes of this Will, I have intentionally and with full knowledge failed to provide for him and his issue," the documents state.
It was not specifically stated why The Old Man nixed Christopher from the will.
The site claims that prior to the 2017 update, Richard's wife, Joanne, was named his beneficiary, along with Rick, Christopher and eldest son, Joseph. (Richard and Joanne's oldest child, daughter Sherry, was born with Down Syndrome and passed away at the age of six.) Only Rick appeared regularly on 'Pawn Stars.'
Per the 2017 update, Richard left Rick in charge of his estate, naming him as the administrator.
While the Harrison family has yet to comment on will's contents, 'Pawn Stars' co-star Austin "Chumlee" Russell may have eluded to the matter with a tweet he posted this week which stated, "Forgiveness is the greatest gift."
Richard and Rick opened their Las Vegas shop in 1981, later relocating and expanding in 1986 and 1989—the latter of which would become the venue known by 'Pawn Stars' viewers. The reality show's 15th season finished airing in May and it's unknown whether or not the show will continue following Richard's passing.
(Photos: History Channel, Instagram)