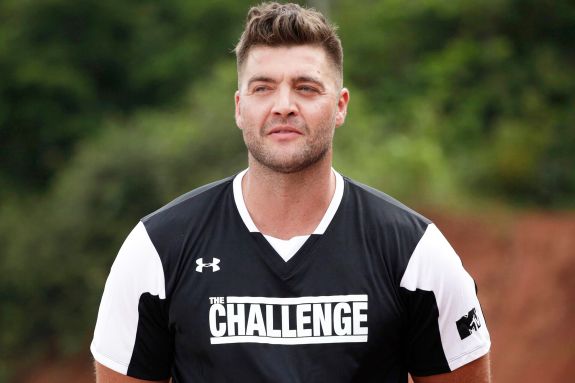 Wedding bells are about to ring for The Challenge vet CT Tamburello– and MTV will be there to capture the Kodak moment when CT says "I do!"
Vevmo posted about CT's engagement today, and The Ashley can add that CT and his baby mama, Lilianet Solares, are going to be getting their own MTV wedding special!
The Ashley's sources tell her that this special has been in the works for several months. The Ashley does not yet know if it will be a one-episode special or a miniseries, but it will show the prep leading up to the wedding, bachelor party, and the actual wedding, from what The Ashley has heard.
"That's why he's been training so hard–to get rid of his 'Dad Bod' by the wedding," a source tells The Ashley.
The Ashley hears that the wedding will take place in August (likely in Florida), and that MTV has already contacted several 'Challenge' vets to appear on the special including Cara Maria Sorbello and Camila Nakagawa (who has been banned from doing future 'Challenge' shows).
In an interview with Rolling Stone that was published on Wednesday, CT alluded to the fact that his fans may be getting a look at his closely guarded personal life. (On 'The Challenge,' CT has discussed being a dad to his two-year-old son, Chris Jr., but has been fairly quiet about his relationship with Lilianet.)
"I will say this though: My private life? Stay tuned," CT told Rolling Stone. "I'm sure you guys are going to get an in-depth look at what my life is like outside the show. You'll see."

When the mag asked CT if he is going to appear on another reality TV show, CT replied, "Stay tuned!"
"This is what he is talking about," The Ashley's source tells her. "Things are still being finalized so he can't come right out and talk about the special yet."
This will be the first time 'Challenge' fans will meet Lilianet.
"She has tried to stay out of the 'Challenge' limelight," The Ashley's source tells her. "That's because of the whole 'CT/Diem' thing and fans feeling so strongly about that. Some have not been very nice to her because they felt that CT belongs with Diem [who passed away in 2014 after a long battle with cancer]."
It was rumored that CT proposed to Diem right before her death in November 2014. However, he never confirmed that this actually happened, and the rumor was disputed in the press.
The Ashley will have more info on this special soon– stay tuned!
(Photo: MTV, Instagram)