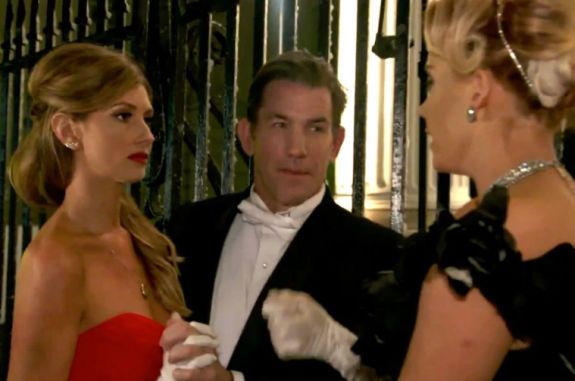 Southern Charm star Thomas Ravenel is on a bit of an apology tour after watching his girlfriend Ashley Jacobs launch a verbal attack on his baby mama, Kathryn Dennis, during last week's season finale.
On the episode, fans watched/cringed as Ashley and Kathryn's interaction at Patricia's Winter Ball went from chilly to downright icy, ending in Ashley telling Kathryn that she was merely an "egg donor" to the two children—Kensie, 4, and Saint, 2—she shares with Thomas.
During the argument, Thomas failed to intervene (shocker) so after the finale aired, he tried to make nice by apologizing on social media for not coming to Kathryn's defense. He also attempted to take the blame for Ashley's actions.
"I felt horrible for Kathryn during the final scene of the finale," Thomas tweeted. "I should have explained to Ashley what Kathryn had suffered. She's had major anxiety and depression issues along with two babies in rapid succession at a young age. The responsibility was mine and I must have it."
Fans may remember (who could forget?!) that this isn't the first time Ashley came for Kathryn this season, nor is it the first time Thomas sat back and watched such an attack go down.
As The Ashley previously told you, Kathryn was on the receiving end of Ashley's messy wrath during a group trip to Hilton Head this season, during which Ashley insulted Kathryn's parenting skills and brought up the fact that she had lost custody of her kids in 2016 after testing positive for marijuana.
However, Kathryn got her vindication at the very end of Thursday's episode when it was revealed that she now shares 50/50 custody of the children.
Following this week's pseudo-apology via social media, the former politician went on to do some more damage control by claiming that he is a changed man… though some are speculating his carefully crafted words are those of the crisis manager he has reportedly hired.
"As the oldest male member, like other cast members, I'm ashamed of some of my behavior," he tweeted. "Moreover, at 55, I should be setting an example for the other younger men, not an example of what not to emulate either! Should I return, that will be my goal."
Bravo has yet to reveal whether or not Thomas and his less-than-charming self will return to the show for future seasons.
Thomas did not attend the filming of the upcoming Reunion episode, likely due to an ongoing investigation of sexual assault allegations being brought against him by his children's former nanny and at least one other woman. (Thomas has denied the accusations against him.)
While Thomas was absent from the Reunion, Ashley did attend…and apparently came face-to-face with Kathryn.
"I'm excited to see Tyson versus Holyfield…aka Kathryn versus Ashley," Cameran Eubanks says in a preview clip of the Reunion.
Cameran later commented that she thinks Ashley is "a horrible human being" for what she said about Kathryn's mothering skills.
Watch a sneak peek of the 'Southern Charm' Season 5 Reunion below!
(Photos: Bravo, Instagram)