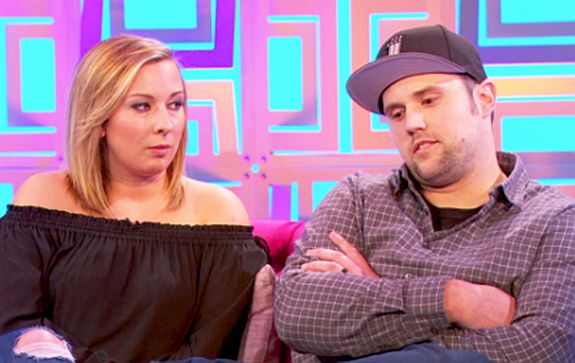 The cast of Teen Mom OG is changing by the moment!
Just one day after it was announced that Bristol Palin would be joining the show, original 'Teen Mom' dad Ryan Edwards and his wife Mackenzie have stated that they were booted from 'Teen Mom OG'…and The Ashley hears that it was Ryan's baby mama, Maci Bookout, who helped the network make that decision!
In an interview with E! Online, Ryan and Mackenzie stated that MTV is writing them off the long-running reality TV show. From what it sounds like, the show's higher-ups (and Maci) don't believe that Ryan is still sober. (He confessed last year to having a heroin addiction before going to rehab last summer.)
"We're not returning to Teen Mom this season. The network told us they don't want to show Ryan as a recovering addict," Mackenzie told E! Online.
As The Ashley told you yesterday, Bristol was brought into the cast after Maci refused to film for Season 8 if Ryan was allowed to film. (The Ashley's sources tell her that Maci didn't want Ryan filmed because she didn't want Bentley to be able to watch his drug struggles play out.)
The Ashley's sources tell her that Maci basically gave production an ultimatum.
"Maci–and a lot of other people around Ryan– do not believe that Ryan is sober. Maci told the producers that she did not want Bentley to be able to watch his father kill himself with drugs, so if Ryan was allowed to continued to film, she was done filming," a crew source tells The Ashley.
"It was pretty much him or her, and they picked Maci over Ryan. That's why Ryan is no longer filming. Ryan and Mackenzie can say whatever they want about MTV not wanting to show a recovering addict or whatever, but that's the real reason behind them being let go from the show. Maci would not agree to film  until the network agreed that Ryan would no longer film," the source added.
The Ashley hears this all went down about a week ago. That's when the network agreed to cut Ryan from the show in order to get Maci to film. (She started filming right after they agreed.)
Ryan sort of confirmed this in his statement to E!
"They also want to take Maci's word on how I'm doing," Ryan said. "Maci's said she's not going to film unless I enter rehab again and quit the show. But I'm sober."
In their interview with E!, Mackenzie– who is currently pregnant with Ryan's baby– said that, after giving them the boot, MTV cut her off medically.
"The show had been paying for my healthcare and for the baby so they could film the visits and then a week ago they let me know that would no longer be the case," Mackenzie said.
(Just to note: MTV does not generally pay for any of the cast's medical care, since they are all considered independent contractors. If the network was, indeed, paying Mackenzie's medical bills, that is very rare!)
"They're not going to film the birth," Mackenzie added. "We're not going to be on [the show] at all. Maci can't speak to Ryan and Ryan can't speak to Maci – that was a mutual decision. But she doesn't know what's going on in our lives."
Mackenzie and Ryan confirmed that Ryan's son with Maci, Bentley, will still film for the show. Mackenzie claimed that MTV tried to get her and Ryan to sign a contract for their baby to be able to film.
"They did want to enter a contract with our unborn baby and have the baby film with Ryan's parents so it would look like someone else is raising it…So they're writing us out of the show right now and making it seem like we dipped out on our baby, on Bentley and on everyone. And that's just not the case," Mackenzie said.
"If they don't want to film now, then we don't want to film later," she added.
On Friday, Ryan returned to his long-abandoned Instagram account to voice his anger about what went down with MTV, and to proclaim that he is sober, despite what anyone thinks.
"I will never stop speaking out against this horrible disease! It consumes your life and turns you into someone even you don't know," Ryan wrote. "I'm asking you to never give up. Each day is a struggle. I've made mistakes and I have really messed up in the past but there is so much hope ahead and it doesn't mean I can't change the future. If you or someone you know needs help, please don't hesitate to go SAMHSA.gov. Help is out there.
"Don't take everything you see on MTV as factual truth. They don't want to show me or Mack in a happy light or that I am active in my recovery. I AM. They want me to look angry, passive aggressive and uncaring regarding things that mean the most to me. I'm done taking their shit and letting the world believe this by standing up for myself. You're believing a lie. And soon… very very soon, you WILL see the TRUTH behind the LIAR."
During the last 'Teen Mom OG' Reunion, Ryan confirmed to Dr. Drew Pinsky that he wasn't doing aftercare following his 20-or-so-day rehab stay.
"It's honestly hard to find a counselor because of this TV show," Ryan told Dr. Drew. "[A counselor] was like, 'I'm not gonna see you because I don't think the TV show and you are a good idea.'"
Dr. Drew expressed his concern about Ryan's ability to maintain his sobriety without an aftercare plan.
"If he's not doing any treatment, he needs to be on medication management," Dr. Drew said at the time.
Anyway, now that Ryan and Mackenzie will not be making money from appearing on 'Teen Mom OG,' they are going to need other ways to support themselves. One way they are going to be doing that is by selling maternity/baby photos to the tabloids.
The Ashley hears that one of the largest tabloid companies is currently in talks with the couple to pay them for an in-depth interview about their baby, as well as photos.
"They were asking for between $10,000 and $12,000 for that exclusive," a source tells The Ashley. "It looks like they're going to get it, too. That's part of the reason Mackenzie and Ryan recently returned to Instagram– to promote stuff like that."
The Ashley will update this story when more information is available.
(Photos: MTV, Instagram)