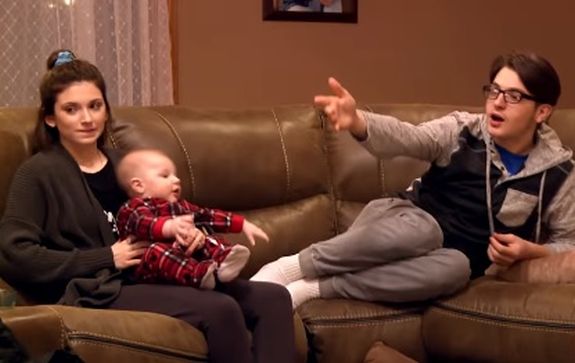 TLC's hit 16 and Pregnant-esque show, Unexpected, is coming back for another season!
'Unexpected' was a, well, unexpected hit for the network when it premiered last year. In fact, according to Starcasm, the teen pregnancy reality show finished up last season averaging one million viewers per episode.
Two of the original 'Unexpected' moms will return for Season 2, along with three new moms. McKayla Adkins (now 17) will return along with her son Timothy and baby daddy Caelen. Lexus Scheller (now 17) will also be returning and bringing her daughter Scarlett and her baby daddy Shayden.
Lilly Bennett will not be returning to the show for Season 2. She has yet to reveal why she will not be continuing with the show.
The alums will be joined by three new couples: Laura and Tylor; Chloe and Max; and Emiley and Diego. According to the network, the added couples are all "newly expecting."
A rep for the show said we can look forward to plenty of drama this season.
"It truly takes a village to raise a child and this series delves into the oftentimes overwhelming responsibility and sacrifice that is required of young parents, and their families," the rep said in a statement. "Viewers will get a firsthand look at the hurdles that all five families encounter while raising not only their teenagers, but their grandchildren- and great grandchildren.
"As grandparents and great grandparents step in to help the teens, roles are blurred, tensions mount, and relationships are strained because everyone has differing opinions about what is best for the teens and the well-being of their babies."
We were also given an overview of what to expect for the first episode.
"In the premiere episode, McKayla decides to take her young child and move out of her grandparents' house, while Lexus reveals the details of her breakup with Shayden," the Episode 1 description reads.
"After I had Scarlett, [my] relationship [with Shayden] just kind of went down the drain," Lexus says in a sneak peek Season 2 clip. "After Shayden and I broke up he went to jail for violation of probation. So, really, it's just me and my mom raising Scarlett."
Later in the clip, however, Lexus tells her mom that she's trying to get back together with Shayden.
As for McKayla, it appears from the trailer that she is considering getting married. She also worries that she could be pregnant again.
The new girls will also have exciting storylines.
"Just weeks before giving birth, Emiley finds herself at a crossroads with her boyfriend, Diego," a description from the network reads. "And Max, the boyfriend of expectant mother Chloe, proves that he still has a lot to learn."
In the trailer, we hear Max tell Chloe that she looks "a little pudgy," even though she just had a baby. We also hear Laura tell us that her boyfriend, Tylor, "hasn't really taken it in yet that I'm growing a human inside of me."
The new season premieres August 5 on TLC. Watch the full Season 2 trailer below!
(Photo: TLC)