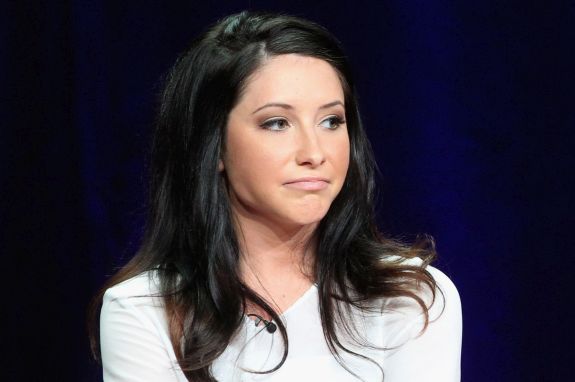 Yesterday, the Teen Mom World was rocked when news broke that Bristol Palin will be joining the cast of Teen Mom OG for the upcoming season. As The Ashley told you, Bristol has been filming with a 'Teen Mom' crew for weeks. However, the daughter of politician Sarah Palin refused to comment on the news…until today.
Bristol posted a photo of herself and her three kids (nine-year-old Tripp, two-year-old Sailor and 14-month-old Atlee) to Instagram on Friday. In the background of the photo, an MTV camera crew can be seen. She confirmed that she had been added to the 'OG' cast in the photo's caption.
"I am excited to join MTV's 'Teen Mom OG,' Bristol wrote. "I look forward to sharing my experiences and hope that I can help others on their journey."
Sarah Palin also confirmed the news by posting Bristol's Instagram post to her own Facebook and Twitter pages. She also commented on Bristol's Instagram post.
"I'm excited for you, Bri!" Sarah wrote in the comment section. (She added the American flag emoji to her post, naturally.)
As The Ashley told you, Bristol was added to the 'Teen Mom OG' cast originally because one of the show's stars, Maci Bookout, was refusing to film another season. The Ashley's sources tell her that Maci did not want to film if Ryan Edwards, the father of her son Bentley, was filming.
"She basically told production and crew that she wasn't going to film if Ryan was filming because she didn't want his drug struggles to play out on TV anymore," The Ashley's crew source said. "She didn't want Bentley to be able to watch that go down."
Maci did eventually end up filming, bringing the number of 'OG' girls up to five. (The Ashley broke the news last month that The Challenge star Cheyenne Floyd is also joining the 'OG' cast.)
Anyway, judging by social media posts, 'Teen Mom OG' fans had a mixed reaction to the news that Bristol was joining the cast.
One person who was not happy to hear the news was Jenelle Evans' husband, David Eason. David, who was fired by MTV in February for going on a homophobic Twitter rant, took to Facebook on Friday to air his thoughts on the network hiring Bristol, who, in the past has used homophobic slurs (and allowed her then-three-year-old son Tripp to use one on her short-lived reality show Life's a Tripp).
"I know MTV is comprised of hypocrites but how do you fire me but hire Bristol Palin after all her homophobic and racist remarks?" David posted to his official Facebook page.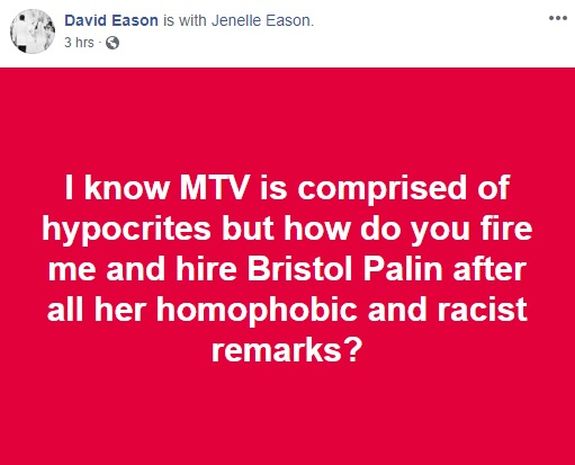 (Of course David's latest statement directly contradicts his statement from March, in which he told TMZ, "MTV never fired me. I don't know who posted the thing on Twitter from the MTV social media account but whoever runs MTV's social media is not the boss man!")
The rest of the original 'Teen Mom OG' cast members– Maci, Catelynn Lowell and Amber Portwood have yet to make any public statements regarding Bristol being added to the cast. Naturally, though, Farrah Abrahamhad something to say about Bristol taking her spot on the show.
"MTV has already tried to replace myself with another teen mom," Farrah told Page Six. "It was unsuccessful and now with another teen mom, they can keep trying to replace but there is not a replacement for me."
(Photos: Frederick M. Brown/Getty Images; Instagram; Facebook)