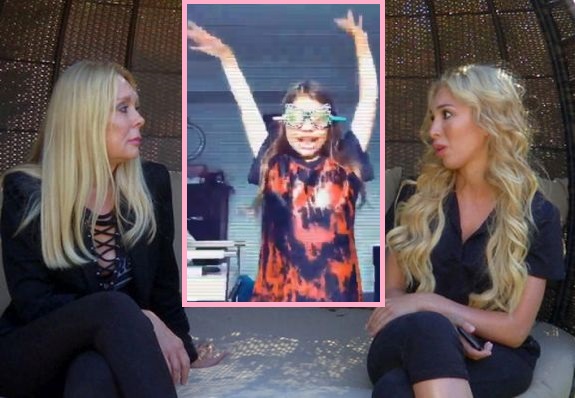 Teen Mom fans weren't the only ones who were appalled by a video that Farrah Abraham's daughter, Sophia, recently posted to her Musical.ly account. The nine-year-old's grandmother, Debra Danielsen, tells The Ashley she was "shocked" and "appalled" by the video, which features Sophia lip-syncing to the New Boyz' song "Bunz" while wearing tight leather pants and shaking her "bunz" for the camera.
"I can't believe what I'm witnessing," Debra told The Ashley about the video. "I just can't."
The video, in which Sophia lip-syncs lyrics such as, "She had an apple bottom, skinny waist/Shake them buns all in my face," before twerking for the camera, was posted to Sophia's social media accounts on Wednesday, causing Debra– and some of Sophia's adult followers– to become alarmed.
"This is inappropriate!" one person wrote in the comments on Facebook. "She's acting much too sexual for a little girl."
"She should be into sports, dancing, games, etc. NOT BABY TWERKING LURING GROWN MEN!" another person wrote on Facebook.
Debra agreed.
"This is not appropriate at all. She's nine years old!" Deb said. "She should be in spelling bees and dressing up like a fairy princess with her friends, not doing things like this!"
Debra told The Ashley that she feels Sophia should be in a "good accredited school" instead of the homeschooling online program Farrah has stated she uses for Sophia's education.
"She needs to be with kids her own age, doing age-appropriate things," Debra said. "Education should be the main focus for Sophia, not all this other craziness going on in her life. My granddaughter should not be subjected to all of this very adult stuff happening in her life."
"Farrahs world is different from what Sophia needs," Debra added. "She doesn't have Sophia's best interest at heart."
Debra said that she has not seen Sophia or Farrah for a long time, and neither has other members of their family.
"The whole family is shaken up about it," Debra said. "My mom, Farrah's sister Ashley, all of us. My mother is heartbroken that she never gets to talk to Sophia. She hasn't seen or talked to her in almost a year. Last August, Farah brought Sophia to Council Bluffs, [Iowa], for my mom's birthday. MTV came and filmed it. That was the last time my mother saw her great-grandchild. Farrah has cut us all off."
It was recently revealed that the Los Angeles District Attorney's Office has filed two charges against Farrah, stemming from her June arrest at the Beverly Hills Hotel. Should she be convicted of both misdemeanor charges, she reportedly faces up to 18 months in jail.
Debra says that some time behind bars may do Farrah some good.
"She needs to go to jail." Debra said. "Just like Amber [Portwood] needed it. Farrah needs it.
"I'm not out here trying to ruin Farrah," Debra said. "I have kept my mouth closed a lot of the times when I could have said something. But at this point, I don't know what to do for my granddaughter. She deserves a real shot at life, without all the craziness. She deserves to be a normal kid."
You can see the video in question below:
A video posted by Sophia on Friday shows her using the app while wearing a towel. In another post she told a follower she just got out of the shower. (Don't worry— the video is safe for work.)
People have been asking and wondering about the other video of Sophia so here it is. At first I didn't post this.. but I also think people need to be aware of her lack of supervision. She's so young. She should not be posting videos of her right out of the shower in her towel. pic.twitter.com/RKup8FZjLZ

— ?️non ?️pinion (@AnonOpinion411) July 20, 2018
(Photos: Musical.ly, MTV)