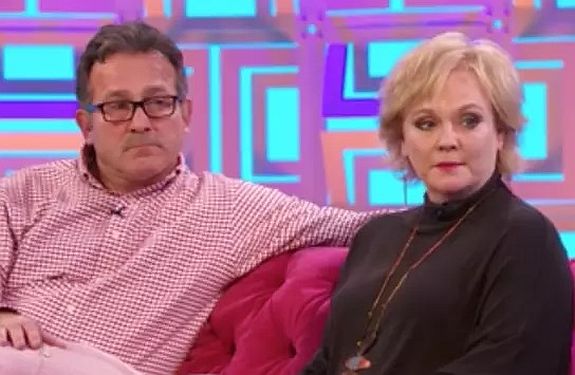 Ryan and Mackenzie Edwards may have gotten the boot from Teen Mom OG, but the fate of Ryan's parents, Jen and Larry Edwards, remains unseen…even to Larry!
In an interview with Radar Online, Larry– who has been part of the show since its first season– stated that he is pretty sure he and Jen will continue to film with MTV, despite the fact that Ryan and Mackenzie are no longer filming. (The couple announced on Friday that they were done with the show, and The Ashley told you what really went down behind-the-scenes in regard to that decision!)
"I would assume [we're going to be on next season]," Larry told Radar. "We haven't heard we are not [on the show anymore]. I'm not sure with Viacom. We haven't been notified."
Larry admitted that he and Jen have not been actively filming for Season 8. (The rest of the original girls have been filming for weeks, with the exception of Maci Bookout, who, as The Ashley told you, only started filming about a week ago once the show's producers ensured her that Ryan would no longer be filming for the show.)
"No we have not been filming," Larry said. "We haven't heard anything. The last time we filmed was in New York when we were there for the Reunion [in March]. They haven't been back to the house since. Sometimes they film Maci and Taylor."
When they announced that they were no longer part of the show, Ryan and Mackenzie stated that they were booted because the show's producers "don't want to show Ryan as a recovering addict."
Ryan and Mackenzie, who are expecting a baby this fall, alluded to the fact that Ryan's parent's will still have a place on the show, with or without them.
"[MTV] did want to enter a contract with our unborn baby and have the baby film with Ryan's parents so it would look like someone else is raising it…So they're writing us out of the show right now and making it seem like we dipped out on our baby, on Bentley and on everyone. And that's just not the case," Mackenzie said.
On Saturday, "Ryan" made statements in his Instagram comments that sounded very similar to what Mackenzie told E!
"We are not doing the show anymore," Mackenzie Ryan wrote in a comment on Ryan's Instagram page. "They said they don't want a recovering addict on the show. They want to show the worst of it but not the recovery/positive side. They also want to film our new baby just not with us so it looks like we dipped. Sorry but no. That is why I'm speaking out on here!"
Ryan's mother, Jen, has not made any public comments regarding her status on the show, or her son getting booted.
As The Ashley previously told you, Bristol Palin and The Challenge star Cheyenne Floyd will join the 'Teen Mom OG' cast for Season 8, which is reportedly due to premiere this fall.
RELATED STORY: 'Teen Mom OG' Grandpa Larry Edwards Talks About Son Ryan's Current Condition 
(Photos: MTV, Instagram)