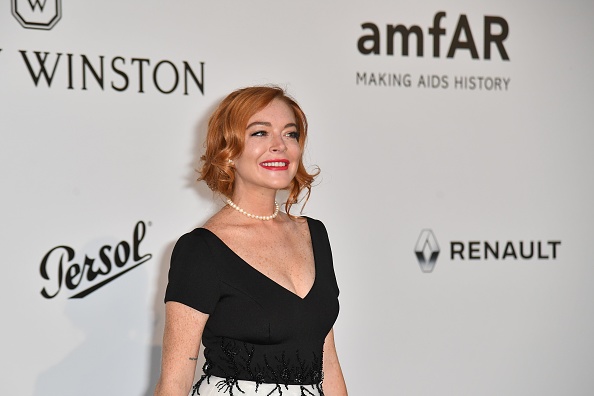 Lindsay Lohan is channeling her inner Lisa Vanderpump by welcoming reality TV cameras into her new night club in Greece. Lindsay's new show, which will chronicle the happenings at her club, Lohan Beach House, is being dubbed the Grecian 'Vanderpump Rules.'
(We're sure LVP—who has successfully co-owned dozens of bars and restaurants in her lifetime—is thrilled by this comparison!)
Last month, Lindsay hinted at the possibility of the show to The New York Times and now it looks like the famous redhead has been given the green light.
According to The Hollywood Reporter, MTV confirmed that the show has been picked up and is currently filming.
"The show, produced by unscripted veterans Bunim/Murray, will be set at a recently opened beach club on the Greek island of Mykonos," THR stated. "The show will follow [Lindsay] and the staff of the Lohan Beach House at work and, presumably, after hours. Think 'Vanderpump Rules' on the Mediterranean."
Since packing up and moving to Dubai a few years ago, Lindsay has kept a relatively low profile in the celebrity world, only making a few TV and film appearances… including her random (yet also fitting) gig with Lawyer.com.
Feel free to call me anytime @Lawyer .com ?? pic.twitter.com/Eq5XSFOKPR

— Lindsay Lohan (@lindsaylohan) May 25, 2018
"I don't have any bad intentions. And my past has to stay in the past. Like, people have to just let go of it and stop bringing it up because it's not — it's gone. I think success is the best revenge — and silence, as a presence," she told The NY Times when asked why she left the United States. "When I chose to change my future, my life, I was like, 'Where's the one place I can find silence?'"
While living abroad, Lindsay decided to focus on a market she once knew so well: the club scene. Lohan Beach House is the brick and mortar embodiment of the old adage, "you can take the girl out of the party, but you can't take the party out of the girl."
While Lindsay's presently-untitled reality show will document the happenings at her Greek establishment, according to The New York Times, the international businesswoman already has her sights on opening another beach club on the island of Rhodes as well as one in Dubai.
#SpinOffsForDays
A premiere date for Lindsay's reality show has yet to be released, though fans can quench their Lindsanity thirst in the meantime by catching her on Season 2 of the British scripted sitcom, Sick Note, which returns this week on Sky One. According to IMDB, Lindsay will appear in eight episodes this season as character Katerina West.
Of course, if you're looking specifically for a Lindsay-reality-show fix, you can always dig up some re-runs of the eight-part docu-series, Lindsay, that aired in 2014 on OWN… just don't blame The Ashley for any emotional scarring that may result in viewing that horrific show.
Watch Lindsay talk about life in Dubai in this interview from April.
(Photos: ALBERTO PIZZOLI- Getty Images/ Twitter, Instagram )