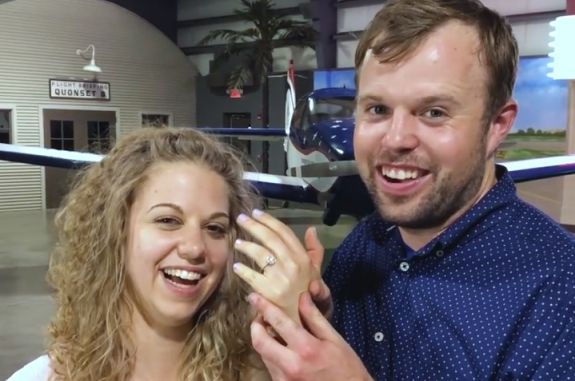 The Duggars are preparing for yet another wedding!
John-David Duggar announced on Wednesday that he is engaged to Abbie Burnett, the girl he has been courting for one month!
(This may be a new record for the shortest Duggar kid courtship ever!)
In a new video posted by TLC, John and Abbie gleefully announce their engagement.
"So, I have some news…yup, it's official: we are engaged!" John-David proudly proclaims in the video as Abbie shows off her ring and giggles.
Since they just married off Josiah Duggar, it's about time for ol' Jim Bob and Michelle to have another one of their 19 children prepare to tie the knot. (The new season of Counting On is about to premiere, after all…)
According to TLC, John took Abbie to an old-fashioned airplane hanger to make his proposal, in a nod to his love of airplanes and side job as the Duggar Family Pilot. The couple later posed for engagement photos inside the hanger and outside on the runway.
John explained why engagement is a much bigger deal than courtship.
"Engagement is very different from a courtship because engagements actually says, 'OK, I'm committed to this person, to marriage, for life," he added. "A courtship is more of getting to know this person with the idea of a possibility of marriage. But now it's actually that commitment towards marriage."
When they announced their courtship last month, the couple explained how they met.
"We've known of each other for several years," John-David said in a video posted to the Duggar Family website. "We fell in love very quickly and it's been a wonderful journey thus far."
"John flew in for a church event here in Oklahoma where I'm from," Abbie said in the video. "We really got connected then…. it's taken a lot of prayer, a lot of counsel, a lot of time together [to] decide to move on into courtship."
As The Ashley previously reported, John's bride-to-be is not the standard "teenaged and quiet" gal the Duggar boys tend to marry. Abbie is 26 and has had a years-long career in nursing. (She's a registered Long-Term Care Aid and Licensed Practical Nurse.) She does, however, come from a large religious family like the Duggars. (She is one of eight siblings.)
In the new video, John says that he wanted to propose even earlier (is that even possible?) but he needed time to plan out a special proposal [for the cameras].
"We've been ready for this step for a little while, but I had a lot of things I wanted to get done to make it really special," he said. "I don't know if I succeeded or not but it was a lot of things."
"He succeeded!" Abbie finally chimes in. "We are looking forward to planning a wedding so that we can get married."
Jim Bob and Michelle posted a message about the engagement on the family's official website.
"We are thrilled to announce the engagement of John-David and Abbie!" they wrote. "They are a wonderful match and make a beautiful couple! Abbie is a lovely young woman, full of tenderness and compassion. She has a deep love for the Lord and we are so delighted that John-David has asked her to be his wife! We love weddings in this family and can't wait for this next one!"
John-David lets his new fiancé do the pitch to watch them on the upcoming new season of 'Counting On,' which premieres on July 30.
With John-David preparing for marriage, that leaves only four Duggar offspring who are over 18 and unmarried. They are John's twin sister Jana (who is 28); twins Jeremiah and Jedidiah (who are 19); and Jason (who is 18).
Watch John-David and Abbie discuss their engagement in the video below:
RELATED STORY: Here's What We Can Expect From the Upcoming New Season of 'Counting On'
(Photos: TLC, Instagram)