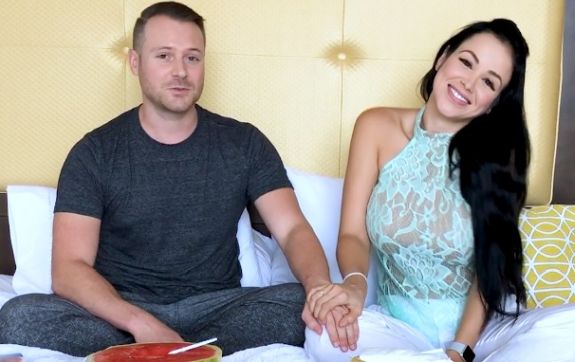 There will soon be a new member of the 90 Day Fiance: Happily Ever? cast!
Russ and Paola Mayfield, who are starring on the current season of the reality TV spin-off, announced on Wednesday that they are expecting their first child.
"This is the most amazing feeling ever! We can't believe we are going to be parents — we are already so in love with our baby," the couple told Us Weekly. "We are ready for this new adventure and we know it will bring us closer together. God has blessed us again, and this time, we are going as strong as our baby's heartbeat!"
On a recent episode of 'Happily Ever After?' Paola revealed that she had suffered a miscarriage. Her doctor explained that the miscarriage was likely due to her having Type O-negative blood that was also Rh-negative. The rare combination can often lead to miscarriage, but Paola was told her Rh incompatibility can be treated to help prevent future losses.
The loss of the baby created some trouble in the Mayfield marriage, but the couple seems to have worked through it. (Russ even defended his marriage earlier this month in an Instagram post.)
In a photo posted to Paola's Instagram account, Russ and Paola are shown surrounded by fruit and diapers, as Paola holds the positive pregnancy test.
In the photo posted to Russ' Instagram account, Russ is seen reading Dad's Guide to Pregnancy for Dummies, as Paola beams beside him.
"We are thrilled to announce that we have a little one on the way! So much to prepare for and the cravings have started for the both of us," Russ wrote in the photo's caption. "I cannot express the amount of joy I have in my heart for our expecting baby. I believe this new chapter will bring more hopes and dreams that we will ever imagine. So much happiness is on the way!"
Russ and Paola will celebrate their fifth wedding anniversary in October.  Their marriage has been full of ups and downs, with many of those "downs" being related, in part, to Paola's "best friend" from Colombia, Juan Munoz Palacio, who has made it no secret that he opposes Paola's marriage to Russ.
However, Juan left a sweet message to Paola and Russ in the comment section of Paola's pregnancy announcement post. (His message has been loosely translated from Spanish by Roundup writer Holly):
"Many people have asked me if you are pregnant and I was dying to tell them. For all of those who are interested in what I think, even though they may not believe it, it is an infinite joy to  know you are going to have a baby and I am going to have a nephew or niece," Juan wrote. "God knows how he does things and if he put this baby in your life, it is for something. Congrats Paola and Russ. I am very happy for the baby and I hope to see you soon to celebrate, ha ha, obviously in the calmest manner. I love you with all my heart."
Paola replied to Juan's message on Instagram, telling him (basically), "I hope that now you understand how important my husband is to me and that this time he can have peace and tranquility in our relationship. I love you so much!"
In a video made for TLC, Paola and Russ said they are so happy to be expecting their first child.
"We are so ready for this now," Russ says. "At first we did have some reservations."
"We were really scared in the beginning after what happened to us [with the miscarriage]," Paola added.
Russ said he's hoping they have a boy, but Paola is hoping for a girl.
"I want a pink room!" she said. "I want a little girl!"
"I want my baby to be as kind, smart, loving and supportive as my husband is," Paola added.
"And I want our baby to be strong, self-motivated and driven the way you are too," Russ told his wife.
Watch Paola and Russ talk about what they hope this pregnancy will do for their relationship:
To read our '90 Day Fiance: Happily Ever After?' recaps, click here!
(Photos: TLC, Instagram)