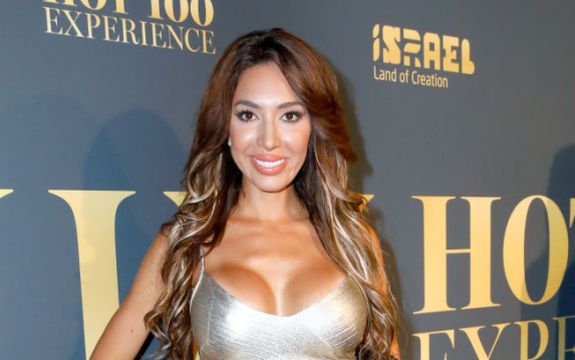 Farrah Abraham is determined to maintain her status as a "top celebrity in the nation," even if it means taking a few blows to the head.
This week, the former Teen Mom OG star began training for an upcoming "celebrity" boxing match, in which she has enlisted the training expertise of Jeremy Jackson (aka Hobie Buchannon from 'Baywatch') at 10th Planet Jiu Jitsu in Los Angeles to perfect her punching skills.
While this venture of Farrah's is random enough on its own, what's more perplexing is the fact that Farrah told The Blast she's participating in the fight to raise awareness against bullying, a topic she claims to be very passionate about… and not at all guilty of herself.
"I signed up for a celebrity boxing match for anti-bullying because my daughter has been bullied," Farrah says as her nine-year-old daughter Sophia starts delivering gut punches to her oblivious mom.
"I can't wait to find another big celebrity that feels the same way about bullying as I do and I think it will be an amazing next project."
As for who will get the honor of fighting Farrah, her opponent has yet to be announced. However, Farrah provided a rundown of possible contenders via Instagram Live on Tuesday.
While there are, no doubt, plenty of people who would like to punch Farrah in whatever face she's currently using (and a few who have tried over the years), Farrah says she will only consider boxing people who are anti-bullying.
Unfortunately, Farrah says this eliminates most of the people that Farrah's "fans" would enjoy watching her box, including anyone from the Teen Mom franchise and Drita D'Avanzo, who recently said she'd go to jail in order to be able to "smack the s**t" out of Farrah.
"Farrah vs. ['Teen Mom' producer] Larry [Musnick]? I like that. I mean, I don't want to box anyone who has been bullied me because they obviously don't stand for a good cause," Farrah said on Instagram Live. "They don't stand to get rid of bullying. So, none of the 'Teen Moms,' they out… Drita, she out. All these bad bullying celebrities, right?"
(And, just for the record, no, those aren't typos. Farrah really did say 'they out' and 'she out.' Perhaps she's trying to build her street cred?)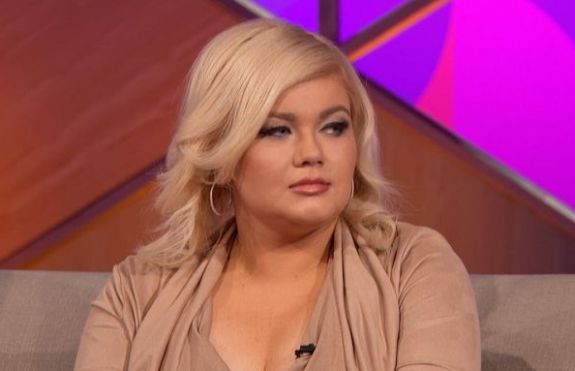 So who would Farrah consider boxing? To save you the pain of sitting through the nearly five-minute Instagram Live video, The Ashley has compiled a list of those mentioned in the clip, along with the ever-present "Farrah Speak" explanations as to why the Backdoor Teen Mom wants to go into the boxing ring with them.
Farrah said she would consider boxing singer/actress Teyana Taylor
"I think Teyana Taylor would be good because she's not for bullying and I feel like a lot of other people who are against bullying should be up to be my opponent, so we'll see who's up for the boxing challenge," Farrah said.
She would also like to touch gloves with singer Britney Spears.
"She's great! She's also an awesome mom" Farrah said. "I love Britney Spears, so maybe we can bring Brit out for a good cause against bullying, I think that's awesome."
(Sadly, Brit is probably a bit too busy to give Farrah a few whacks.)
Farrah also wants to box fellow adult film star Jenna Jameson, whom Farrah claimed she has on speed dial.
"She's awesome, she doesn't like bullying," Farrah said. "I might have to give her a call, she's my girl. She's a great mama, I gotta check in with her since Celebrity Big Brother."
Farrah also liked the suggestion she got from someone who was watching her Instagram Live video, who stated she should box actress Pamela Anderson.
"Maybe Pamela Anderson? We could bring Pamela Anderson in… Celeb Boxing match with Pam Anderson," Farrah said. "She's probably got it going on, I know there's been some abuse in her family so I think, ya know, bully awareness would be great."
Lovely, Farrah…
In a video of her first training session posted on The Blast, Farrah also mentioned MTV's Chanel West Coast as a possible contender, as well as Kim Kardashian and Paris Hilton.
(The Ashley's just going to come right out and declare that she would pay any price to watch Farrah and Kim Kardashian beat the BeJesus out of each other!)
One person who Farrah refuses to get into the ring with is her estranged mother, Debra Danielsen. Farrah said that Debz OG doesn't bring the right anti-bullying message with her.
"Yeah, my mom's a bully and her husband, so they're not invited," Farrah declared.
No date for Farrah's boxing match has been set; however, during her Instagram Live video, Farrah stated that the beatdown would take place sometime in October, in a "big venue near the ocean hopefully."
She later wrote that the fight would take place in Atlantic City.
Let's get ready to ruuuuuuumble! 
UPDATE! The Blast reports that Farrah's camp has reached out to several of the women Farrah named as people she'd like as her possible opponent, including Chanel West Coast and Teyana Taylor. Neither of those women has responded. However, the site reports that Blac Chyna was also contacted and she turned the offer down. (Go figure!)
Nicole "Hoopz" Alexander of Flavor of Love fame has "expressed interest" in boxing Farrah, however.
Watch video of Farrah's first training session below:
(Photos: Rachel Murray-Getty Images/ Instagram)