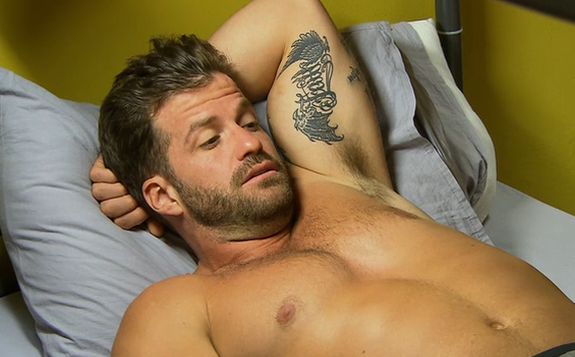 Johnny Bananas'…um…"banana" made its Internet debut on Wednesday.
The Ashley has learned that a sex tape allegedly starring The Challenge star and his ex-girlfriend, Olympic snowboarder Hannah Teter, was leaked online. The video, which was uploaded to p0rn site, Celeb Jihad, is undated but shows a man and a woman who look identical to Johnny and Hannah gettin' it on. (Judging by Johnny's hairstyle it appears to be from several years ago.)
The Ashley has viewed the tape and can state that it does, indeed, appear to be Johnny doin' the deed. His very identifiable arm tattoos are clearly visible in the footage.
The tape is being billed as a "Hannah Teter Sex Tape" on the original site it was posted to, with no mention of Johnny being Hannah's bed buddy. (The Ashley is not posting the tape or the link here, sorry.)
Twitter was buzzing after the tape went public, and several of Johnny's 'Challenge' co-stars posted cryptic tweets that we can assume are related to the sexy-time footage.
Johnny just happened to be doing a live interview with People magazine at the time the news of the tape went public. He was discussing his new gig as the host of the travel adventure show First Look.
Johnny and Hannah dated for about five years before splitting in the fall of 2017. 'The Challenge: Vendettas' was the first season of the show that Johnny had done while single in years.
Johnny and Hannah have not yet commented on the leaked tape.
The Ashley will update this story when more information is available.
(Photo: MTV)