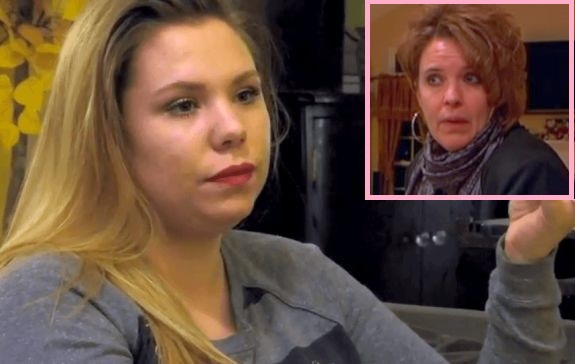 Kail Lowry often talks about her life and her kids in interviews, but the Teen Mom 2 has been notoriously quiet about discussing her parents. During last week's episode of her Coffee Convos podcast, though, Kail opened up about her strained relationship with her mother, Suzi, revealing that she hasn't spoken to or seen her mom in years.
Fans first met Kail's mother Suzi during her 16 and Pregnant episode in 2010. Suzi appeared on the first few seasons of 'Teen Mom 2,' and Kail discussed how Suzi's drinking shaped her childhood and negatively affected their relationship. Eventually, Kail said, she had to cut her mother out of her life.
"I don't even know if she's alive," Kail said on the podcast. "It's been years. I don't think anyone in my family has heard from her."
While chatting with Teen Mom OG stars Catelynn Lowell and Tyler Baltierra (who each have a parent that struggles with substance abuse), Kail admitted that the recent first birthday party of her youngest son Lux made her realize how little family she actually has.
"Like nobody, not even my extended family came…I was like, 'I don't have a family,'" Kail said. "My sister didn't come, my mom didn't come; I don't even have a dad…My third son just turned one and, my mom, I haven't heard from her. I'm kind of in my feelings about it….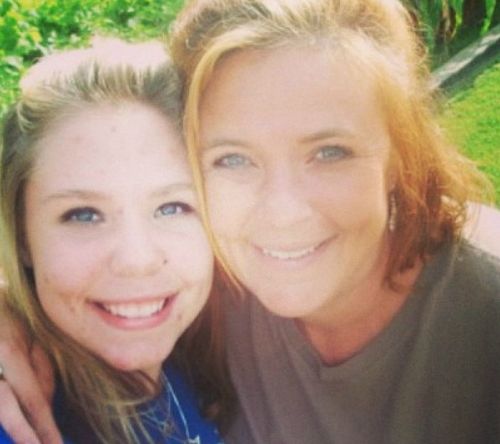 "For a long period of time I cut my mom off, I had to, and I [was] OK with that," Kail added. "I'm OK with her not being in my life, but now, I have three kids… I want my kids to have a grandma on my side. But I don't know if I can handle it. I want it for my kids because, when my mom's sober, she's such a good person. She's a good time, so I want my kids to experience that."
Kail stated that the last time she spoke to Suzi was when her second son Lincoln was about six months old.  (Lincoln is now four years old.)
"There was a time where I left Lincoln with her," Kail said. "When I came back, she was so f**ked up."
Tyler explained how he accepted his father Butch's addiction, but Kail said she can't accept her mother's drinking.
"I have a hard time with that," Kail said. "I don't have any sympathy or empathy or whatever you want to call it. I don't have it for my mom, and it's hard for me. I want to have a relationship with her but am I going to be OK with it if she's not sober all the time…I don't think my mom recognizes she has a problem, or if she does recognize, she doesn't want help."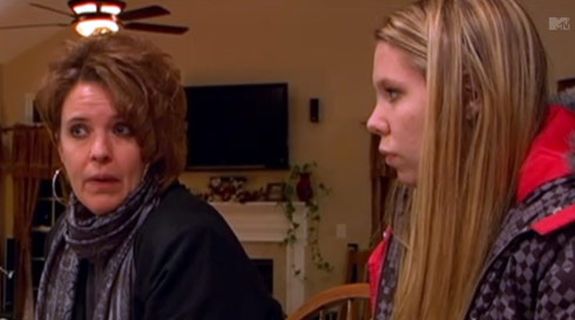 Kail said that, back when she was pregnant with her oldest son Isaac in 2009, Suzi signed over custody of Kail to the parents of her ex-boyfriend, Jo Rivera.
"Right before that, she was sober for about nine months," Kail said. "That's the longest she's ever been sober. But, my mom has always relied on a spouse."
Kai admitted that she has started to see herself repeating what she feels are Suzi's behavior patterns.
"My mom's had so many people in and out [of her life], and I started to see that in myself," Kail said. "Like when something didn't work out, we're on to the next person…This is the longest I've not been with somebody and I don't want to jump into [another relationship] when I'm not ready."
Kail said that her lack of family may be the reason she has issues getting close to people.
"I think people forget that I don't have a family, so I just come off very cold," she said. "I don't know how to handle certain situations and I'm so defensive. I'm like, 'Let's put a poker face on and call it a day' but…I cry a lot!
"I'm definitely self-absorbed," she added. "Everything is about me…I want the person who doesn't want me. That's how my parents were. I needed my parents but they didn't want me."
Catelynn and Tyler offered that Kail had to be cold, due to how she grew up, and Kail admitted that Dr. Drew Pinsky has been telling her that for years.
"Dr. Drew says that and I get so annoyed because I never associated my childhood with who I am today," she said.
As for Kail's father, she said she has no relationship with him whatsoever, and hasn't seen or talked to him since the day she met him while filming her "16 and Pregnant" episode.
"I met my dad when I was pregnant," she said. "He asked me to borrow $20. It was super uncomfortable and I left and never spoke to him again."
Kail said she was devastated after meeting her father.
"[Before I met him] I was like, 'My dad is going to come rescue me someday,'" she said. "I'm going to have this superhero dad that's going to come in when my life is f**ked up and he's going to make everything better. And then I met him and I was like, 'Oh f**k, no, this is not what I expected.'"
Kail said she had no interest in finding her father, but was considering trying to search for her mom.
"I don't know where she lives, I don't have her phone number, nothing," she said.
The Ashley put her sleuthing and creeping skills to use, and has located Suzi. She is alive and well, and living and working less than two hours from Kail's home. (The Ashley is not disclosing where exactly in order to maintain Suzi's privacy.) She does not appear to have been in any legal trouble recently, but is still living with the boyfriend that she was with back in 2011. (Kail tried to file a Protection From Abuse order against him in February 2011 after he allegedly assaulted her.)
On Thursday, a fan commented on Kail's podcast episode, and congratulated her on wanting to reconnect with her mom. Kail replied back, stating that she had changed her mind about wanting to contact Suzi.
"Sorry to disappoint but I no longer want to reach out," Kail tweeted.
Sorry to disappoint but I no longer want to reach out ? https://t.co/ng0pJMNYif

— Kailyn Lowry (@KailLowry) August 30, 2018
To listen to the entire episode of Coffee Convos–which features Catelynn and Tyler– click the link below!
RELATED STORY: Maci Bookout Talks About Ryan Edwards' Arrest, Bristol Palin Joining 'Teen Mom OG' & More During Coffee Convos Podcast Interview 
(Photos: MTV, Twitter, Facebook)