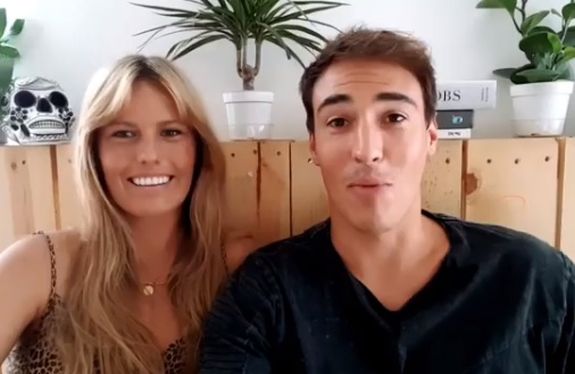 Another Bachelor franchise couple bites the dust!
Courtney Dober and Lily McManus— who began dating while appearing on The Bachelor Winter Games— have split after over eight months together. Courtney (who got his start on The Bachelorette Australia) announced the breakup on his Instagram on Tuesday, and clarified it for fans on Wednesday. Lily– who originally appeared on The Bachelor New Zealand— also confirmed the split on her Instagram account and blog.
"Let me make it very easy to understand: Lily and I have broken up, but we're still best friends," Courtney said on Instagram Live on Wednesday. "As best friends we're helping each other get through the breakup with each other."
After completing the filming of 'Winter Games,' Courtney and Lily hit the road, traveling around the United States together. They managed to outlast all of the other 'Winter Games' couples who stayed together at the end of the show. (Dean Unglert and Lesley Murphy split in April, as did Clare Crawley and Benoit Beauséjour-Savard, who got engaged on the season finale. Ashley Iaconetti and Kevin Wendt broke up in March. (Ashley is now engaged to 'Bachelorette' alum Jared Haibon.)
On Instagram, Courtney went into more detail about what happened and how he and Lily are dealing with the split.
"Lily and I have chosen not to end our relationship but to continue it as mates," Courtney wrote. "We're best friends and it's become clear to both of us that the emotional side of our relationship just doesn't allow us to be the best versions of ourselves. Perhaps in a world where there are no distractions, no life obstacles, nothing else mattered and looking into the future wasn't even a thought, things might be different… but that's not reality and we've decided that this is for the best."
He added how much he still loves and admires Lily.
"I've always lived under the motto – "Everything happens for a reason" and i have no doubt we were meant to meet. In Vermont all we ever heard from everyone else was 'Lily and Courtney, they're the exact same person.' It was kind of creepy but very refreshing. (Plus you're a much more attractive reflection than I'm used to)," Courtney wrote.
On her Instagram account, Lily expressed her love for Courtney.
"Court is a bloody good man, every fiber of his being," she wrote. "He is possibly the most high functioning man I have ever met for someone who has a diet of 98% street van tacos… It makes my eyes leak a little bit but myself and Court have decided to split on mutual terms. I love Court with every ounce of my being, that long limbed f**k will be a part of my life for a very long time. You guys watched us fall in love and it was honestly just as magical as it looked in real life.
"I never thought I'd be the type of woman to fall in love on TV but now I am that bitch. I am a believer. I'm so glad I jumped in an RV with you after making it out of the love cult alive, I wouldn't change a thing Court. Thank you for everything you've done for me. I'm so confident that you'll find every single thing in life that makes you happy, if you can't do it then there's absolutely no hope for the rest of us. maybe in another life we'll eat tacos, play tonsil hockey, swim in the ocean and park RV's in post office car parks. I can already feel the 'love is dead' comments brewing but I can promise you guys it is 100% alive and well."
While none of the couples from 'The Bachelor Winter Games' ended up lasting, there's still hope that former Bachelor Nation stars will find lasting love, as the show's summery sister, Bachelor in Paradise, is currently airing on ABC!
(Photos: Instagram)