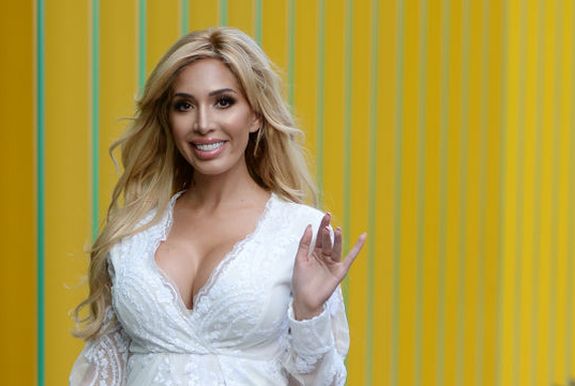 A boxing-themed version of the Backdoor Teen Mom is coming to an Internet p0rn site near you!
Just when we thought former Teen Mom OG star Farrah Abraham couldn't get any more shameless…she proved us wrong by announcing on Wednesday that she has partnered with her old p0rn-camming site, Cam Soda, to broadcast her Wednesday night boxing training session. And, of course, since this is Farrah, she will be boxing in extra-skimpy workout gear, as well as a see-through "Cam Soda" bodysuit, according to TMZ.
And, again, because this is Farrah, things will get even more shameless after the boxing training session, when Farrah will reportedly auction off one of her sweat-drenched outfits to her highest "tipper."
AS.YOU.DO!
As The Ashley previously told you, Farrah is training to compete in a "celebrity" boxing match on November 10 in Atlantic City. She will be fighting Flavor of Love star Nicole "Hoopz" Alexander.
This is not Farrah's first time appearing on Cam Soda. Back in September 2017, she performed for the site's viewers, getting completely naked, licking sex toys (shaped like her own private parts, as you do), and doing a lot of, um, "SheBopping" while on-camera.
However, things went sour between Farrah and the sexy-time site in October, when Farrah allegedly bailed on a planned live Halloween "backdoor" performance. That was, of course, right after MTV fired Farrah from 'Teen Mom OG' and, apparently, she wasn't up for having "backdoor" fun for the Interwebs. (As you'll remember, Farrah's earlier Cam Soda performances were viewed by MTV as her reentry into the adult industry, and were the tipping point for her to get the boot from MTV.)
After Farrah failed to fulfill the "booty fun" she promised Cam Soda viewers, the site had to refund viewers, which started a rift between Farrah and the site. In November 2017, Radar Online reported that Farrah was planning to sue Cam Soda for the $5,000 she claimed they owed her for the "performance." (She stated that the site withheld her compensation because she failed to wear Cam Soda apparel while on-camera.)
Cam Soda was also upset that Farrah allegedly spoke poorly about the site on her social media accounts. (Imagine that!) In a letter sent to the site, Farrah's legal team stated that Farrah "has a right to voice her opinions" about her employer. (As we know, that has worked out swell for Farrah in the past!)
Apparently, Farrah and Cam Soda have since kissed and made up, though, because Farrah's sexy time workout sesh will be held tonight live on the site.
RELATED STORY: You Can Now Buy 'Teen Mom' Farrah Abraham's Feet For $12.99…Or Something
(Photos: Eamonn M. McCormack/Getty Images; Instagram)