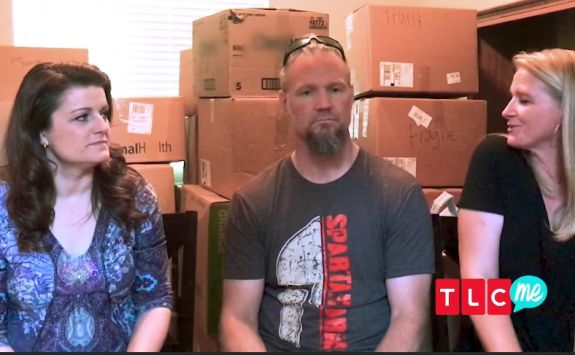 Sister Wives star Kody Brown has packed up his four wives and cornucopia of kids and high-tailed it to Flagstaff, Arizona, and it appears that the Sister Wives star is already starting to build a new Brown Family Cul-de-Sac in the Grand Canyon State!
Kody, who announced back in July that he and his super-sized family were packing up and leaving Las Vegas, recently spent $820,000 on property for his family's new Arizona homes. According to the Browns' Twitter postings, the family made the move in early August. 
The clerk of Coconino County, Arizona, confirmed to Radar Online that Kody, 49, purchased a plot of vacant land in Flagstaff. The land has split into four parcels (presumably one for each of his wives.)
Kody's third wife Christine appears to have made out the best in the deal. Her parcel reportedly measures 5.16 acres and cost the Browns $300,000. For some reason, Christine's plot is considerably larger and more expensive than the parcels belonging to Kody's other three wives, Janelle, Meri and Robyn.
According to records, Janelle and Robyn were each given a parcel of land measuring 2.42 acres. (Each parcel cost $170,000.) Meri's land is 4.48 acres and cost $180,00. Kody is listed on each of the parcels with each wife. (Interestingly, Robyn—who is now Kody's only legal wife—is also listed on Christine's super-sized parcel, along with Kody.)
Radar reported last month that Christine put her Las Vegas home on the market for $675,000. She originally purchased the house for $443,315 in 2012. The Vegas homes belonging to Robyn, Janelle and Meri have yet to go on the market. (This means that, if you're eager to get your mitts on Meri's infamous wet bar home, you'll have to wait a bit longer.)
In July, Kody explained why he and his family are moving to Arizona.
"As much as we've loved making our home and memories here in Las Vegas, we are excited to embark on a new adventure in Flagstaff, Arizona," he told People. "We are looking forward to cooler temperatures, the mountain air, scenic views, and the slower lifestyle of Flagstaff."
Kody has a total of 18 children with his four wives, but currently, only about 10 are still living at home.
In a sneak peek for the new season of 'Sister Wives,' Christine boasted of their new town, "It's green, there's four seasons. It's a little bit smaller, quite a bit smaller than Las Vegas.
"Vegas has been good for us, I'm not saying that it hasn't, it's been really good. It's been great for our kids," she added. "They've all really grown here and done so many wonderful things and it's been great for us. I'm just ready for the next adventure."
Kody added that, "There's mountains, we'll be living at 7,000 feet elevation. Small town, quiet, beautiful college."
Meri tweeted that anyone who knows her knows that she loves "the mountains, the peace, calm & serenity that can be found there."
Let's hope there aren't any catfish in the mountains…
In the sneak peek clip, Robyn told 'Sister Wives' fans that they will "see all this craziness in the next season."
Season 12 of 'Sister Wives' will air later this year.
Watch Kody, Christine and Robyn discuss their move to Arizona in the video clip below!
RELATED STORY: 'Sister Wives' Star Kody Brown Announces His Family Is Moving From Las Vegas to Arizona
(Photos: TLC, Instagram)