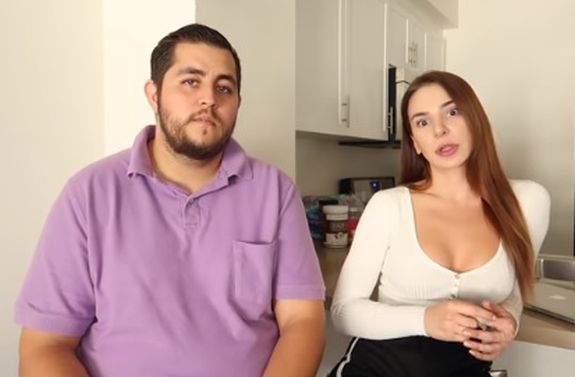 90 Day Fiance star Jorge Nava is not going to be living "Happily Ever After" with his wife Anfisa— at least not for the next two-and-a-half years!
Jorge and Anfisa are in shock after an Arizona judge sentenced Jorge to two-and-half years in prison in regard to charges he incurred after being arrested in Arizona in February on multiple felony marijuana possession and distribution charges. (On the day of his arrest, police found nearly 300 pounds of marijuana in his car!)
Back in July, Jorge plead guilty to a felony count of "Attempted Transportation of Marijuana for Sale." That plea deal helped snag Jorge a much smaller sentence than he was originally facing.
"When I first started, with the charges against me, I was looking at like 24 years or something like that, some ridiculous number," Jorge said in an interview with TMZ. "But luckily my lawyer was able to work out a plea agreement…I ended up pleading to a Class 4 felony in Arizona."
Jorge's wife Anfisa, who has been keeping fans posted on Jorge's legal battle via her YouTube channel, took to YouTube the day before Jorge's sentencing to explain what happened on the day of Jorge's arrest, and why he decided to plead guilty.
Jorge, who also appeared in the video entitled "My Husband Is Going To Jail (Can't Believe How Much Time He Got)," said he pled guilty to the lesser Class 4 felony, knowing that it would mean he would receive up to two-and-a-half years in prison for his crimes. This was better than taking his chances at a trial, where he could have received up to 24 years in prison, he said.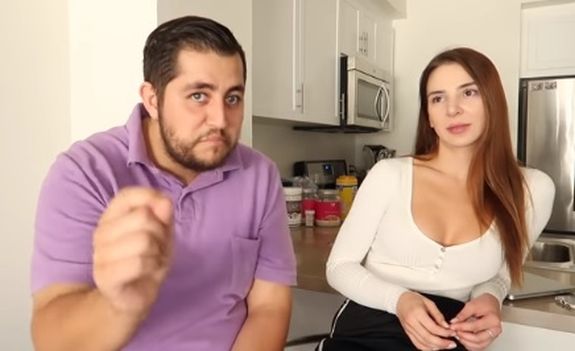 In the YouTube video, Jorge explained that, although he was indeed guilty of carrying "a ton of illegal things" in his car, he felt he was profiled by the police officer who pulled him over.
Although Jorge enlisted the help of a lawyer to try to get his case dropped (due to the alleged "profiling"), Jorge was unsuccessful. The fact that he already had a criminal record at the time of his arrest certainly didn't help.
"[My lawyer] told me if I didn't have an priors, I would have probably got probation," Jorge said. "I would have been a first-time offender in Arizona. But, I had two previous convictions for cultivation of marijuana. Just to set that straight; that's my criminal record. I've never done anything else. I've never even had a DUI."
According to Arizona media outlet The Bee, during sentencing, Jorge's attorney asked Judge Billy Sipe to consider Jorge's "young age" and "job in the television industry" before sentencing. He also asked the judge to give Jorge the minimum sentence— one year in prison.
Despite Jorge's attorney's pleas for leniency, the judge handed down the maximum sentence allowed within Jorge's plea deal: two-and-a-half years.
In addition to his prison sentence, Jorge is also required to pay a $20,000 fine, and was ordered to do four months of supervised probation after he gets released from prison.
"I still feel like it's not fair, but I didn't want to risk going to prison for a long time," Jorge said on the YouTube video. "Two-and-a-half years is still a long time, but I feel like it's not forever."
In his interview with TMZ, Jorge again discussed how unfair his sentence was.
"I feel like it's really harsh of a penalty for the crime, just because it's marijuana-related and right now it's going legal in a lot of states," Jorge said. "It's actually medically legal in Arizona. I just feel like going to prison over the same stuff that's legal is kind of crazy to me."
Like the judge who handed down Jorge's sentence, fans of the show who viewed the couple's YouTube video seemed to have very little sympathy for Jorge.
"I can't believe that someone who went on national TV and made it public knowledge that they sell drugs for a living is surprised they got pulled over…" one person wrote in the comment section of the video. "You honestly think that nobody in law enforcement has possibly seen the show and knows what you do and was looking for the opportunity to bust you?"
"Jorge, you were not profiled," another person wrote. "You did something illegal and got caught… Don't use the profiling epidemic as an excuse. You do not get the right. You did the crime, pay the time."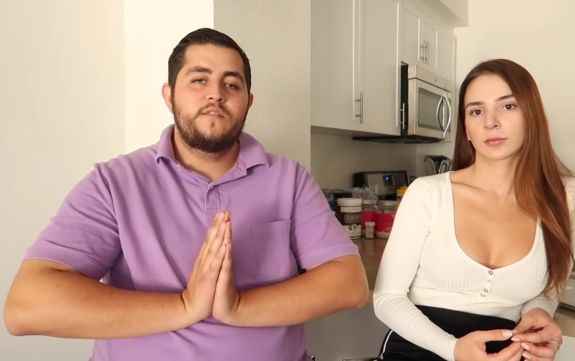 Fans watched Jorge and Anfisa's drama (and near-divorce) play out on multiple seasons of "90 Day Fiance," and some expressed in the YouTube video comments that they felt Anfisa would ditch Jorge once he's behind bars.
"It's party time for Anfisa now! Bye Jorge," someone wrote. "Your girl won't feel the same after you get out bud, that's if she is even around still."
While talking to TMZ, though, Jorge stated that he was confident that Anfisa would stay by his side.
"There's really nothing wrong in our relationship right now," Jorge said. "We've been really good these last couple months. She's been here supporting me through this whole journey and she's going to be with me throughout this whole process and after that too. I don't really see us splitting up."
Watch Jorge and Anfisa tell the whole story of Jorge's arrest and court battle in the YouTube video below!
(Photos: YouTube)