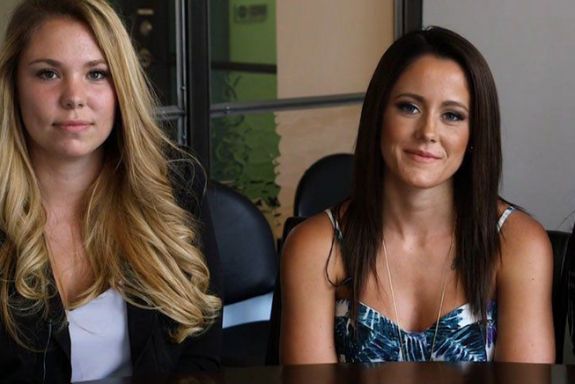 Following her initial comedic response to the news of her Teen Mom2 co-star Jenelle Evans' latest homeschooling venture, Kail Lowry took to her podcast this week to discuss her feud with Jenelle and elaborate on why she feels that Jenelle should stick to what she's good at.
(Soo… picking terrible partners? Getting bad tattoos? Incorporating the word "dude" into every sentence? Avoiding jail time? Take your pick…)
As The Ashley recently told you, in addition to her 'Teen Mom 2' gig and hawking random products on Instagram, Jenelle is now homeschooling her 11-year-old stepdaughter Maryssa. The news of Jenelle's fledging career as an educator was announced by Jenelle herself in a tweet where she called out Kail for "podcasting away" and tweeting alleged nonsense about her.
Shortly after Jenelle's post, Kail posted a response knocking Jenelle's inability to teach based on her recent "across/a crossed" snafu.
On this week's episode of Kail's Coffee Convos podcast, which she co-hosts with Lindsie Chrisley, Kail spoke more about her ongoing beef with Jenelle. She also addressed Jenelle's claims that Kail and Lindsie are always bringing her up on their podcast.
Soooo it's ok to constantly talk about me on their podcast tho? Don't you have any other topics than me?! ???‍♀️??‍♀️ #Flattered

— Jenelle Eason (@PBandJenelley_1) August 27, 2018
"I guess, here and there, we mention Jenelle on the podcast," Kail told Lindsie. "Personally, I feel like we discuss it and we move the f**k on. I don't feel like we harp on it. If it's something in the news, we talk about it, and that's that."
Kail went on to say that Jenelle had blocked her on social media, but continues to mention or allude to her in some of her posts. She reiterated that Jenelle's name only comes up on her podcast when she's "doing some dumb s**t" and making headlines.
"I don't care about Jenelle or what she does," Kail said. "If she's making headlines, and we talk about it, that's really it. I'm not sure why she continues to tweet about me. Both of us keep [the feud] going, but you can't sit there and say that I can't say stuff about you on the podcast, when you're making these crazy videos, you're doing… whatever you're doing that's obviously making headlines, so we're going to talk about it."
Kail advised Jenelle to not post "dumb s**t" on social media if she doesn't want people to say anything about her.
She also said that if she cared more, she'd really let Jenelle have it.
"If she really wants me to talk about her … I can really, really rip into her. But I don't because I really don't give that much of a f**k."
Last month, Jenelle wrote on Twitter that she doesn't listen to Kail's podcast.
"I have better things to do than listen to anyone's podcasts, lol. It's not my thing," she tweeted.
Later in the podcast episode, Kail and Lindsie answered fans' questions and Kail was asked for her opinion on Jenelle homeschooling Maryssa.
"I also do try not to talk about people's kids, and I'm not against homeschooling," Kail said. "However, I don't know that Jenelle is in a place where she should be homeschooling anybody."
Kail, who became enraged when another 'Teen Mom 2' co-star, Briana DeJesus, talked about her kids on social media earlier this year, explained why this situation with Jenelle was different.
"I know I would get a ton of backlash because, if I talked about [Jenelle's] kids the way Briana talked about my kids," Kail said. "Let me just give a little preface on this, the context that Briana talked about my kids in, it would have been possible for people to start up an investigation and CPS to get involved for her making that kind of statement on social media, that was my whole thing."
(In case you're wondering, Kail is referring to this incident from May, when Briana wrote on Instagram that Kail's third baby daddy, Chris Lopez, was physically abusive to Kail in front of her kids.)
Anyway, Kail explained that homeschooling can be a great option and she even went on to note the unique learning opportunities a homeschooled education can provide. However, as for the notion that Jenelle can successfully run such a program… Kail isn't convinced.
"I definitely think there are great ways to homeschool, I just, after knowing Jenelle for 10 years, do I think that she is a good candidate? No, I don't," Kail said. "That's how I feel."
Listen to the full episode of Coffee Convos below!
RELATED STORY: 'Teen Mom 2' Star Jenelle Evans Confirms She's Now Homeschooling Her Stepdaughter: Get All the Details!
(Photos: MTV, Instagram)