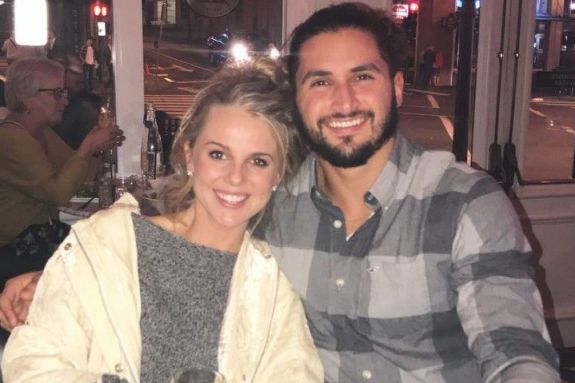 It's official: another couple who met on Big Brother is getting married!
"Big Brother 18" stars Victor Arroyo and Nicole Franzel got engaged on Friday, during a visit to the "Big Brother 20" house. On the Live Feed, it was shown that the current season's houseguests wrote "Congrats Nicole & Victor" on one of the walls of the house. Eliminated "Big Brother 20" star Swaggy C confirmed the proposal news on Twitter.
"Congrats to Victor and Nicole on their engagement #BB20," he tweeted. "Love is love. Goodluck."
Congrats to Victor and Nicole on their engagement ??? #BB20.
Love is love. Goodluck ?

— SWAGGY C ? (@SwaggyCTV) September 7, 2018
maybe Victor was there too? Kaycee and Haleigh only mentioned Derrick and Nicole ??❓ pic.twitter.com/nz8gsYiWvB

— hamsterwatch #bb20 ?⌚️ (@hamsterwatch) September 7, 2018
Victor and Nicole met on "BB18" during the summer of 2016. Although they did not have a relationship while they were on the show, they eventually began to date in the summer of 2017.
"Everything came together for the premiere of 'Big Brother 19,' where we were in New York and we just clicked," Victor told Entertainment Tonight earlier this year. "From then on, it was, I guess it was a love story, and now she's my girlfriend."
Their relationship came as no surprise to some of their 'Big Brother' roommates.
"I could tell in the Big Brother house that Victor had a huge crush on Nicole," Natalie Negrotti told Us Weekly earlier this year. "Just the way he would look at her — and he was always looking for her — you could definitely tell he had a huge crush on her."
During the season, Nicole was dating fellow 'BB18' houseguest Corey Brooks, which Natalie feels kept Victor from making his move.
"You always know when someone likes someone or someone is interested in someone," Natalie told Us Weekly. "Victor was definitely very interested in Nicole during the show. He didn't vocalize it because Nicole was with Corey, but I could tell for sure. It was just a matter of time."
Victor was last seen on The Challenge: Vendettas. He will next compete with Nicole on the upcoming season of The Amazing Race. (They will be joined by several other 'Big Brother' couples and reality TV stars.)
Watch Victor propose to Nicole in the 'BB20' house!
The cutest proposal for the cutest couple ❤️? Happy engagement @nicole_franzel + @elfitvic!! #BB20 pic.twitter.com/kXBIHXVHPv

— Big Brother (@CBSBigBrother) September 10, 2018
(Photos: Instagram, Twitter)