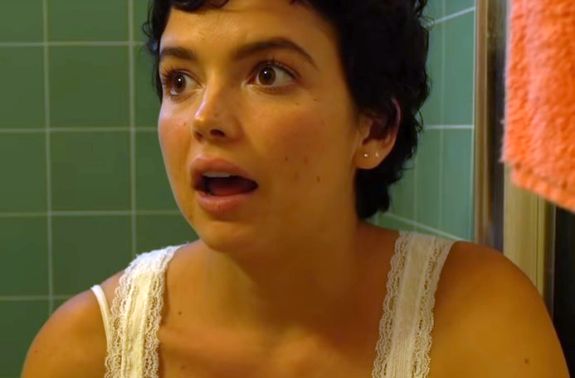 Bekah Martinez seemed to be a shoo-in for this summer's season of Bachelor in Paradise following her appearance on Arie Luyendyk Jr.'s season of The Bachelor. However, the season has come and gone and Bekah's mug never appeared, causing 'Bachelor' fans to wonder why.
On Wednesday, Bekah revealed the very good reason she had for turning down the chance to frolic on the beach with other Bachelor Nation rejects: she's pregnant!
In a video posted to her YouTube channel, 23-year-old Bekah announced her big news and explained how shocked she was by the unplanned pregnancy.
"Everyone was wondering was I going to do 'Bachelor in Paradise' and I had already said no, but it was still kind of crazy that I had this secret that not only do I have a boyfriend, I also have a kid on the way," Bekah says in the video.
Bekah, who was only 22 when she filmed Arie's season last year, admitted that she got knocked up three months after she started dating Grayston Leonard. (They became a couple while Arie's season of 'The Bachelor' was still airing, but tried to keep their relationship a secret for a while, according to the video.)
In the video, Grayston said he was at work when Bekah texted him to let him know he had knocked her up.
"The first thing I felt when I saw the positive [pregnancy test] was pure shock," Bekah says. "Like, my hands were shaking…I knew there was a possibility that I was pregnant but I don't think there was any part of me that actually thought it was real."
Bekah then headed to the Dollar Tree to purchase more pregnancy tests (as you do)…
"I immediately called Grayston and then went across the street to the Dollar Tree and bought two more pregnancy tests. They, of course, were both positive," she said.
Bekah is currently 20 weeks pregnant, and says she's now excited about the pregnancy.
"I've just come to such a point of accepting it and embracing it and being excited and telling people and all that," she said in the video, adding that she's due to give birth in January.
"We'll have a kid before we've been dating for a year," Grayston said.
On September 3, Grayston posted a photo of himself with Bekah on the beach in Santa Barbara, California, along with the caption, "Stuck with this beach."
Two days later, he posted another photo from the same day and captioned it, "After 48 hours of marriage, I am foregoing a life with Rebekah for an annulment. she's not happy about it."
This, of course, sparked rumors that the couple got married. Bekah and Grayston have not confirmed or denied the rumors.
Watch Bekah's pregnancy announcement video below!
(Photos: YouTube, Instagram)