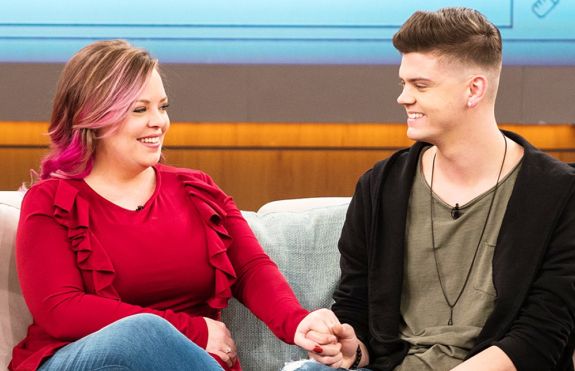 There's another baby on the way for Teen Mom OG stars Tyler Baltierra and Catelynn Lowell!
The couple, who has been married since August 2015, announced on Thursday that they are expecting their third child.
"The big news is that we are expecting our rainbow baby," Catelynn told Us Weekly. "This baby is our rainbow after the storm. I'm super excited."
According to Catelynn, the pregnancy was unexpected.
"It was a huge shock at first," she told the magazine. "We were not planning it, especially after the miscarriage and how I went downhill with my mental illness. We were going to wait a really long time. We were using protection and everything and still got pregnant. This baby just wanted to be here. It was very unexpected."
View this post on Instagram
Catelynn and Tyler are already parents to three-year-old daughter Nova. They also have a nine-year-old daughter, Carly, whom they placed for adoption shortly after her birth in 2009.
The Ashley hears that 'Teen Mom OG' stars will be welcoming yet another girl. Tyler has made it no secret that he hopes to someday have a son. In fact, he admitted to being "pissed" at the gender reveal party held when Catelynn was pregnant was Nova, after finding out the baby was a girl.
"When I found out I was having a girl, and not a boy, my first thought was, 'Dammit,'" Tyler explained in a "Featured Moment" clip that aired in 2015. "I really wanted a boy so bad."
"And now that she's here, I can't even picture not having a girl. It's weird, but I was pissed at first," he added.
Catelynn first hinted publicly of the pregnancy back in August, when she posted a message to her Instagram account.
"Can't wait to share our big news with y'all," Catelynn wrote in rainbow-colored font.
View this post on Instagram
She was likely alluding to the fact that she and Tyler are having what's sometimes called a "rainbow baby," which is basically a baby that comes after a miscarriage.
Earlier this year, Catelynn suffered a miscarriage shortly after announcing to Tyler, her family and her 'Teen Mom' film crew that she was expecting.
"Catelynn got pregnant and surprised Tyler and Nova and then had a miscarriage not long after," The Ashley's source told her at the time. "That happened right before she went to treatment. The crew and production staff heard she was about six weeks pregnant when it happened but no one is 100 percent sure."
The aftermath of Catelynn's miscarriage played out on an episode of 'Teen Mom OG' that aired earlier this year.
Watch Tyler explain (back in 2015) why he wants to have a son so badly:

(Photos: MTV, Instagram)