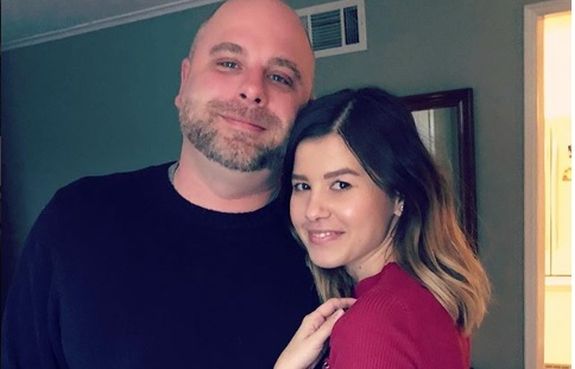 Another 90 Day Fiancé baby is on the way!
Aziza and Mike Eloshway—who starred on the very first season of the hit TLC reality show— just announced that they are expecting their first child. The couple revealed the news by posting a maternity photo to social media.
In the photo, Aziza is sporting a green lace dress and proudly showing off a small baby bump. Aziza captioned the photo, "Mom and Dad 2019"
Mike took a break from posting Trump memes on Twitter to post the photo with the caption, "Coming 2019."
 Fans of the show immediately congratulated the couple on their baby news.
"Congratulations on this new journey of life," one fan commented.
"You look so gorgeous pregnant wow," another wrote
"Hey, you two still together. That's great. No one thought this would work, I'm glad it did work," another posted.
Aziza and Mike first appeared on "90 Day Fiance" in 2014. Russian-born Aziza, now 26, met Mike, who hails from Cleveland, Ohio, through a language-learning website when she was only 20 years old. Due to Aziza's age, and the fact that the disagreed on when to have children, many fans of the show originally thought the couple wouldn't last. However, they have proved those fans wrong thus far.
Earlier this year, Aziza posted a sweet tribute to Mike on social media for their fourth wedding anniversary.
"I met this guy six years ago and my life changed forever," she wrote. "He's probably gonna say, 'Why did you post this stupid picture?' because he doesn't like pictures of himself. But I don't care I love it," she wrote.
Starcasm is speculating that the couple is having a girl based on a comment Mike wrote on a Reddit thread entitled, "Aziza and Mike (Season 1) are having a Niño!"
Mike corrected the masculine form of Niño to a feminine form of Niña in the comments.
Relive Aziza and Mike's wedding day by watching this clip of "90 Day Fiance!"
RELATED STORY: "90 Day Fiance" Couple Russ & Paola Mayfield Are Expecting Their First Child