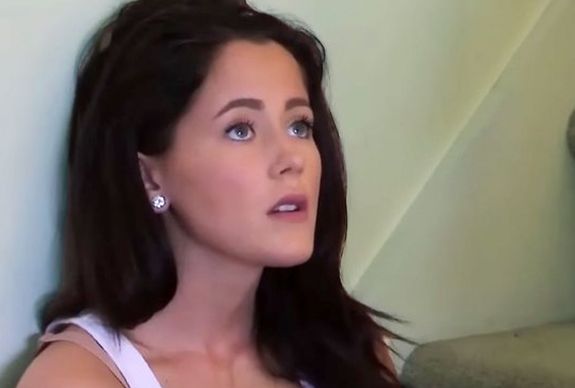 From dodging national disasters to dodging lawyers' bills, the stars (and future stars) of the Teen Mom franchise have been busy this week! In an effort to bring you up-to-date on all of the latest Teen Mom OG, Teen Mom: Young and Pregnant and Teen Mom 2 news, The Ashley brings you the Teen Mom News Pile.
Here are some of the major (and minor but interesting) 'Teen Mom'-related things that happened so far this week…
Jenelle Evans Defends Herself After Getting Skewered For Posting An "Insensitive" Hurricane Pic
Former "atheist" Jenelle took to social media earlier this week to ask her fans for prayers for those in the Carolinas preparing for Hurricane Florence. While the 'Teen Mom 2' star, who lives in North Carolina, had the right sentiment, she still got ripped apart by her followers for the post…due to the fact that Jenelle posted the message with a photo of herself…in a bikini…
"Pray for the Carolinas…Our Linemen…First Responders," Jenelle wrote underneath a pic of herself (naturally) standing in a bikini in the rain.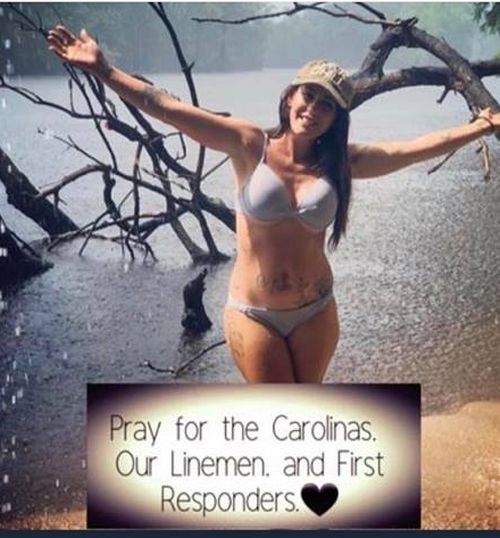 One day before, she specifically asked people to pray that her house on The Land would make it through the hurricane. (She has stated that she, David and their assortment of children are not evacuating, and that she has nothing to worry about, given where The Land is located.)
Naturally, fans had a lot to say about Jenelle's swimsuit pic.
"If by worrying you mean getting in a bikini to pray for first responders instead of evacuating you're killin it!!!" one person wrote.
"Really, Jenelle? How do you manage to make a HURRICANE all about you?" another person commented. "It's so insensitive."
"You made the post about you. Not the individuals sacrificing their lives," someone else wrote on Twitter.
Jenelle attempted to defend her post (which has since been deleted), by taking to Twitter on Thursday.
"Don't get why everyone's offended by my profile pic I posted yesterday… I'm in the path of the hurricane, that picture is from months ago while fishing, asking for prayers…. what SO bad or disrespectful about that?" she wrote. "FYI that profile pic I posted… that's a special frame someone else made on the Facebook app. I didn't make it. Didn't know that would offend anyone. But it's funny cuz everyone bitchin aren't even from NC or SC."
Jenelle's nemesis, Kail Lowry, reposted Jenelle's post to her own Instagram, along with the caption, "[Pray] for Jenelle. I think she's crazy…"
Kail has since deleted the post from her Instagram.
The OG's Met the New 'Teen Mom OG' Stars For The First Time
The original 'Teen Mom OG' stars— Amber Portwood, Maci Bookout and Catelynn Lowell— finally met up with their new co-stars Bristol Palin and Cheyenne Floyd earlier this week in New York City. The girls, who all posed for Instagram photos together before going for drinks to celebrate Bristol and Cheyenne's new gig, appeared to be getting along, despite the fact that the original OG'ers have been very outspoken about not wanting Bristol and Cheyenne on their show.
"Awesome day working with these beauties," Maci captioned a photo of the five girls.
"Had a great night with these beautiful girls! Welcome New G's to the the OG sending all my love," Amber captioned another photo of the group.
"Nice meeting you ladies," Catelynn wrote in the caption of the same group shot. "Welcome to the #TeenMomOG side."
Just a few weeks ago, Tyler Baltierra, as well as Maci and Catelynn, expressed that they were unhappy that MTV had chosen to add girls to the show's cast without even telling them first. In fact, Catelynn and Tyler called it downright "disrespectful" during an interview on Kail Lowry's Coffee Convos podcast.
The first season featuring all five girls premieres October 1 on MTV.
Bristol Palin's (First) Baby Daddy Levi Johnston Got Sued
The man that made Bristol a teen mom– Levi Johnston– is reportedly on the hook for nearly $13,000 in alleged unpaid legal fees to the lawyer that represented him in his bitter custody battle with Bristol over their son Tripp.
The Blast broke the news that Levi (who was once engaged to but never married Bristol) was hit with a lawsuit by Alaskan lawyer Darryl Thompson.
"In total, Thompson claims the former Palin fiancé owes $12,892.50 for all his services, and the attorney claims Johnston continues to 'refuse to pay,'" the site reports.
Levi's custody battle with Bristol was not only bitter, but expensive. Back in 2016, Levi stated that he had spent approximately $100,000 in lawyer fees for the case.
Bristol and Levi have since repaired their co-parenting relationship. In fact, last month, Bristol posted a photo to Instagram showing Levi and Tripp hunting together, along with a nice message to her ex.
"So proud of my son, and super thankful for his dad and step mom for providing him with such incredible life learning experiences at such a young age!" Bristol captioned the photo.
The site also reports that Levi, along with his wife Sunny, are both set to appear on 'Teen Mom OG' alongside Bristol. Obviously they will both be paid for appearing, so the lawyer is hoping that Levi will use some of his new MTV money to pay his outstanding bill.
To catch up on the other 'Teen Mom' news from this week, click here!
(Photos: MTV, Instagram)