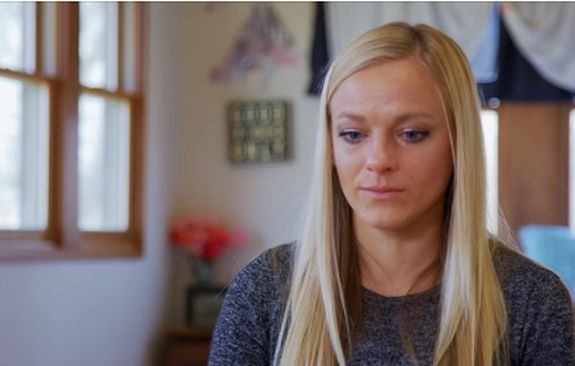 During her Teen Mom special, which airs tonight, Mackenzie McKee will open up about a painful period in her life where she was battling postpartum depression– and her mother, Angie Douthit.
"I just started sending her horrible messages telling her I can't stand her, and I hate her and I wished bad things would happen to her," Mackenzie says of her mom in a sneak peek of the special.
Mackenzie says that her postpartum depression followed the birth of her third child, Broncs, in August 2016. Mackenzie was angry because Angie had threatened to remove Broncs (as well as Mackenzie's older son Gannon and daughter Jaxie) from Mackenzie's care if her mental state didn't improve.
"I had horrible postpartum, worse than I even knew existed," Mackenzie says. "When I was depressed with Broncs, my mom was [like], 'You're a mom, you need to get over it for these kids. And if you're not gonna get over it, I'm gonna take the kids.'
"I wanted her to feel the pain I was feeling," Mackenzie says, explaining why she sent Angie the horrible text messages. "It was like she didn't care!"
Mackenzie said that therapy helped her pull through her postpartum depression.
"But I never got the courage to address the horrible things I said [to my mom]," she said.
Unfortunately, Mackenzie's "wish" for horrible things to happen to her mother came true. In January, Angie was diagnosed with terminal Stage 4 cancer.
"The cancer started in her lungs and spread to her brain and now it's terminal," Mackenzie said. (The cancer has since spread to Angie's bones as well.)
"Our time together is precious," Mackenzie said. "I just hope we can make things right between us."
Over this year, Mackenzie and Angie have obviously repaired their relationship. However, Mackenzie has faced her share of heartbreak. In addition to dealing with her mom's cancer diagnosis and battle, she was also passed up for a spot on Teen Mom OG and Teen Mom 2 this year. MTV had been considering Mackenzie to take Jenelle Evans' spot on 'Teen Mom 2,' but Jenelle eventually signed on to appear on the show's next season.
Mackenzie was also being considered for Farrah Abraham's open spot on 'Teen Mom OG.' However, MTV chose Bristol Palin and Cheyenne Floyd to fill that spot, leaving Mackenzie, once again, screwed out of a spot on a 'Teen Mom' show.
"This year has been a bad year," Mackenzie said in an Instagram Live video posted after MTV announced Cheyenne as a cast member. "I have been screwed over in every way possible. I have let people walk all over me. I've been promised stuff and people didn't keep [those promises]. It's just been a bad year, and I'm not just talking about one specific thing…"
Mackenzie's "Teen Mom: Where Are They Now?" special airs tonight on MTV.
Watch the sneak peek clip below!
RELATED STORY: Mother of 'Teen Mom 3' Star Mackenzie McKee Planning To Use Proceeds From Upcoming Book to Pay Cancer Medical Bills
(Photos: MTV, Instagram)