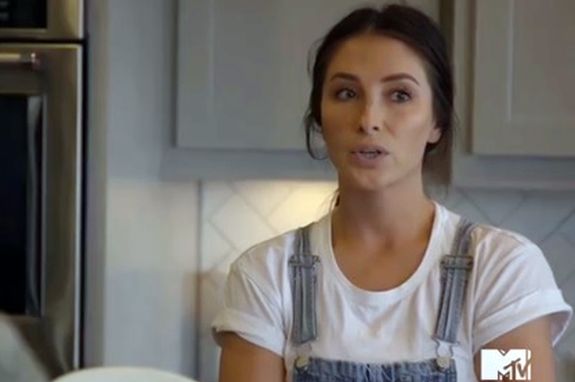 Bristol Palin may be one of the non-OG additions to Teen Mom OG, but it looks like she'll still be bringing plenty of OG-worthy baby mama drama to her debut season.
Bristol—mom to 7-year-old son Tripp with ex-boyfriend Levi Johnston and daughters Sailor, 2, and Atlee, 1, with ex-husband Dakota Meyer—stopped by The Jenny McCarthy Show this week to give listeners the lowdown on her famous family, her recent divorce and her take on the 'Teen Mom' franchise and her predecessor, Farrah Abraham.
She says we'll get to see the "real" Bristol Palin on 'Teen Mom OG.'
"I've been on quite a few reality shows and this is the realest, rawest I've ever been [on TV]," she said. "I never would have even thought I would be this out there, like, 'Here it is!'"
Here's a breakdown of some of the big topics Bristol discussed with Jenny McCarthy:
On people thinking she's rich because she's a Palin:
Bristol acknowledged that, as the daughter of Alaska Governor and 2008 vice presidential candidate Sarah Palin, her life as a teen mom was different than most. In spite of her "blessed" situation and the opportunities it has provided, Bristol said she's always been a hard worker.
"A huge misconception about myself is that just because my parents are well off that I'm just like some spoiled girl, but I've had a regular job for so many, so many years," she said.
"I worked at a doctor's office for seven-and-a-half years so no matter what's going on in my life, when I was on 'Dancing with the Stars' or any of that, it's so important to me to show my kids, 'no this is normalcy and this is what we have to do,' and I take a ton of pride in doing it myself."
Speaking of family, Bristol said her mom was her biggest cheerleader through her decision to join 'Teen Mom OG.'
"She knows my heart, and she knows the reasons I agreed to do the show," Bristol said. "She's so on board!"
On Farrah's comments that Bristol is trying to copy her:
Bristol also addressed the comments made by Farrah when the network began airing teasers for the new season, namely Farrah's claim that Bristol "looks like she wants to be me." Bristol said as a viewer, she initially felt bad for Farrah  because she, too, is often "judged off the bat."
After Farrah lashed out at Bristol, though, Bristol has absolutely changed her tune.
"It's like, girlfriend, you could not pay me to want to be anything like you, honestly," she said. "So, no, I'm not trying to be like her and this is the only time I'm gonna address it because I can't stand people like that or that are like searching for attention … ."
On how the original 'Teen Mom OG' girls treated her after she joined the cast:
Despite her criticism of Farrah, Bristol said she still would've joined the cast if Farrah hadn't been given the boot (or quit, according to Farrah).
The original OG'ers were initially upset that Bristol had been added to their cast, but it appears that they have since accepted her. She told Jenny that the 'Teen Mom' cast and crew have been "incredible" to her.
"[My kids] just love the [film] crew," she added. "It honestly feels like family."
Bristol told Jenny that long before she signed on MTV's dotted line, she was a huge 'Teen Mom' fan and felt like she already knew the cast before she joined.
"I'm obsessed with it," she said on the podcast. "I've been the most loyal fan for the entire run of the show. I love it."
On why she agreed to do 'Teen Mom OG':
We know Bristol got a big fat paycheck for putting her troubles on TV but, according to her, she is appearing on the show for altruistic reasons.
Sure, Jan…
" … my purpose, I just feel like, with this platform is to serve other people and if I can sit here and be a source of encouragement to others going through a similar situation, with divorce, with two baby daddies and trying to figure out everything like that, that life doesn't end after that and that there's hope and that there's light at the end of the tunnel, so that's the reason I'm doing the show," Bristol said.
Jenny asked if Bristol was worried about her goal of helping others getting buried in the producer's desire to create drama on the show. Bristol admitted that she is "absolutely" aware of that risk but she commended the crew for their respect and the good relationship they formed during filming.
On her divorce and Dakota's PTSD:
Bristol's relationship with her ex-husband, with whom she separated from in 2016 and officially divorced this year, is one that viewers will get to see this season. Their story, Bristol said, will touch on Dakota's struggle with Post Traumatic Stress Disorder. A former U.S. Marine, veteran of the War in Afghanistan and 2011 recipient of the Medal of Honor, Dakota reportedly attempted to commit suicide in 2010 due to PTSD, which he later sought help for.
Bristol said Dakota's participation on 'Teen Mom OG' may help others struggling with PTSD, whether military-related or not.
"I think it's so important to shed light on the issue because it's a huge issue that you know, it's not really talked about I guess," she said. "He's an amazing dad and yeah, of course he's seen so much that I have no idea and it was hard for me as a wife to kind of feel like the punching bag for it all, but I'm not a psychologist, I don't know how to handle that situation, so this show, I mean, we kind of opened up to the downfall of our marriage, I guess."
On Dakota's initial reluctance to appear on the show:
Bristol said Dakota was initially against participating in show, but had a change of heart after meeting the crew and realizing the opportunity to possibly help others.
"It's definitely a struggle and I'm thankful for his participation in this because I think that he's going to change lives by talking about [PTSD] you know, by bringing light to it," she said.
Later in the interview, Bristol admitted that it's "so frickin' hard sometimes" not to talk crap on her baby daddies in front of her kids, but she tries not to.
"I just want my kids to see their dads as heroes," she said. "That's the only dad they have."
On the relationship between Dakota and Levi:
"My baby daddies– that sounds so 'Jerry Springer' right?!– I don't know. They are probably best friends and sit there and talk about me!" Bristol joked. "They probably have a group message about me! No, I don't know if they get along or not."
On being a role model:
"I don't think that I'm inspirational at all, but I just hope that it's relatable for someone because I know I've watched the show and it's like, 'Oh gosh, I've been there and I'm not alone,' and that's what I hope to show on the show," she said. "I think there will be a lot of things that people will be surprised about."
'Teen Mom OG' premieres Monday, October 1 on MTV. (Click here to watch the season's trailer!)
Watch a portion of Bristol's interview on The Jenny McCarthy Show below!
RELATED STORY: Farrah Abraham Insists Bristol Palin is Trying to Copy Her
(Photos: MTV, Instagram)