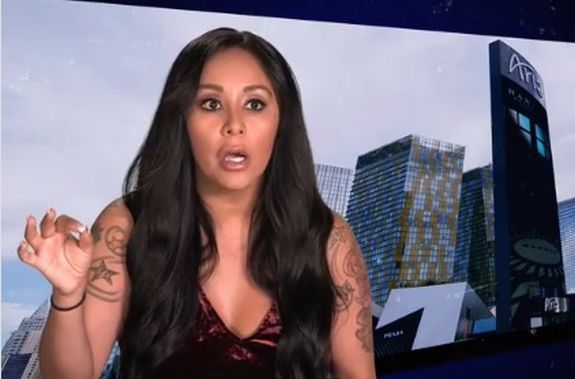 Nicole Polizzi recently announced that she will soon be opening her own retail store in Madison, New Jersey. While Jersey Shore fans seemed excited to be able to physically shop the latest Snooki fashions, some residents of Madison are less-than-thrilled about Snooki coming to their 'hood!
After Nicole got word that several Facebook groups dedicated to the Madison area were trying to come up with ways to keep The Snooki Shop from opening in their town, she took to Instagram to express how hurt she was. (Her post has since been deleted, though.)
"I've heard people going to the town to try and kick me out and me opening," Nicole wrote in the deleted post. "I'm a mother of two who is trying to open up her dream boutique she's been dreaming about for 4 years now. I know people have opinions of me because of 'Jersey Shore' but that's not my entire life and who I truly am. It's a job."
According to NJ.com, locals were upset about Nicole moving her store in, due to the hard-partying reputation she had from the early days of 'Jersey Shore.'
"I'm opening up a clothing boutique in town," Nicole's Instagram rant stated. "Not a bar. Not a club. Not a strip club, The store just so happens to be called The Snooki Shop because I have an online clothing store & decided to keep it all together. So, in conclusion, give me a chance & my shop. Stop judging and come into my shop when it's open, shop and have a glass of champagne & chill out."
Nicole has been successfully running The Snooki Shop online clothing boutique for several years, but this will be her first brick-and-mortar store.
On Wednesday, she posted screenshots of some of the hateful comments she's received regarding her store.
"No one wants your store there solely based on your reputation I would say…" one person wrote. "I'll stop by when I need condoms, dry shampoo and an oversized stuffed alligator."
Nicole clapped back at the girl who wrote that comment.
"Sometimes i just have to share some of people's insightful comments," Nicole wrote. "Ignorant really. I don't whine. I stand up for myself & my brand, just like i need to do to you, a fellow mommy. God bless girl. THE SNOOKI SHOP in Madison coming soon! Disclaimer: I will not be selling condoms, dry shampoo or stuffed alligators."
This is not the first time that Nicole (and the rest of the 'Jersey Shore' cast) have faced backlash from New Jersey locals.
In July, 'Jersey Shore Family Vacation' producers had to work very hard to get permission for the cast to film in Seaside Heights (which is, of course, the town made famous by 'Jersey Shore.') Ashbury Park Press reported that, at first, the borough of Seaside Heights declined to allow the 'Jersey Shore' cast to film an upcoming episode of 'Family Vacation' there, but finally agreed once the show's producers agreed to certain terms.
In 2013, residents of the Pelican Hill neighborhood (which is across from Seaside Heights) threw a fit when Nicole and her husband Jionni LaValle rented a beach house in the area for a vacation. (The vacation was going to be filmed for Snooki & JWoww, which was the reality show Nicole was filming at the time.)
Nicole's Jersey Shore Family Vacation co-star Mike Sorrentino encouraged Nicole not to let the haters get to her.
"Saltiness only seasons the sauce!" he wrote in the comment section of Nicole's Instagram post.
Nicole, who lives in a town neighboring Madison, has not announced when she will be opening her store.
RELATED STORY: 'Jersey Shore Family Vacation' Cast Films Season 2 At Original 'Jersey Shore' Landmarks, Despite Backlash
(Photos: MTV, Instagram)