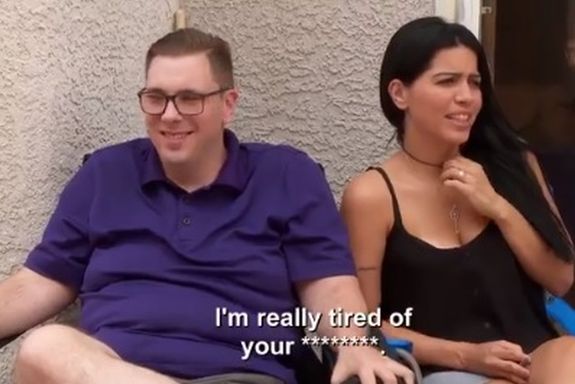 Love is in the air! TLC's hit reality romance show 90 Day Fiancé is back for another season of marriage, visas and drama!
TLC has released the first trailer for Season 6, introducing us to the new couples racing down the aisle before their K1 visa expires! Over the years, the show has delivered some incredibly memorable couples who have gone on to star on one of the franchise's many spin-offs, and the Season 6 stars seem like they'll be delivering the high drama the show's viewers have come to expect!
 Let's meet the Season 6 couples!
Kalani & Asuelu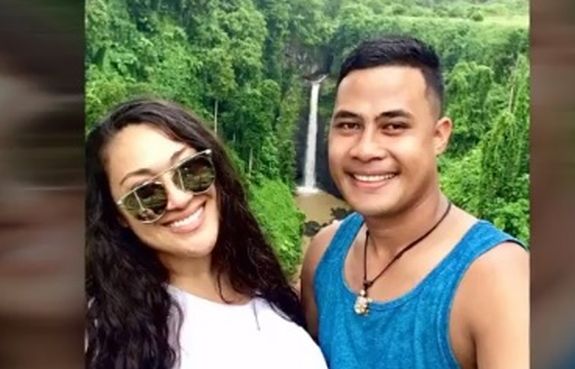 Kalani, 29, is from Orange County, California. She met her 23-year-old fiancé, Asuelu, while vacationing in Samoa. Kalani and Asuelu are sure to bring the drama because they have religious tension on their side. Kalani was raised Mormon and was a virgin when she met Asuelu. After losing her virginity to Asuelu, Kalani became pregnant with his child. The couple now has a five-month-old baby and are eager to get married.
Kalani's Mormon family is not supportive of the relationship.
"He has no idea who my sister is. She does not need him," Kalani's brother says in the season trailer.
Eric & Leida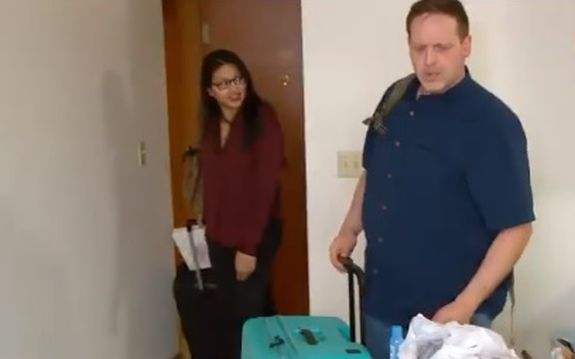 Eric is 40 and hails from Wisconsin. He met his 29-year-old Indonesian fiancé Leida online. Two days after she responded to his online personal ad, Eric proposed to her.
Eric has three daughters from a previous relationship and they are questioning Leida's motives. Apparently Leida comes from a "wealthy background" and, judging by the what we see in the trailer, Eric lives in very, um, modest accommodations.
"I'm concerned the life I have here isn't enough for her," Eric says after Leida gets a look at his filthy apartment.
Jonathan & Fernanda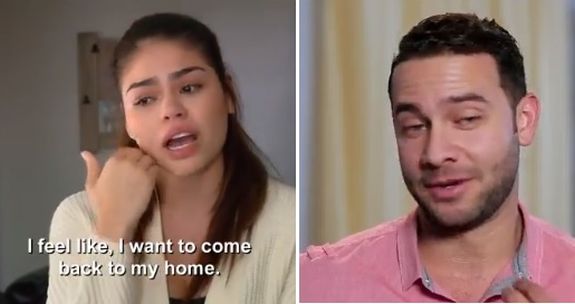 Jonathan, a 32-year-old from North Carolina, met 19-year-old Fernanda while "in da club" in Mexico. Within three months, they got engaged. In the preview for the season, Jonathan can be seen worrying about their age gap, as well as the fact that he feels Fernanda is a "very jealous person."
"People say, you know, a 19-year-old she's just using you… maybe she is," Jonathan says.
Later in the trailer, we see Fernanda expressing her desire to go back to her home country.
Ashley & Jay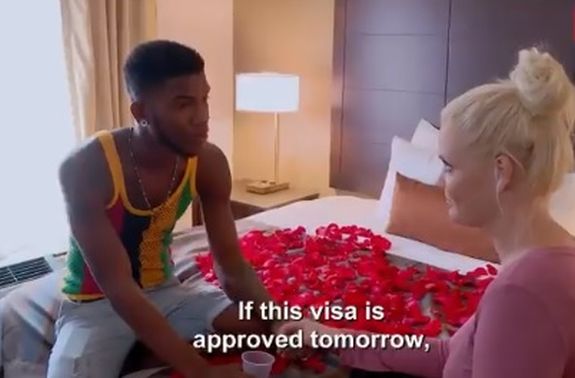 Ashley, 31, met 20-year-old Jay when she was in Jamaica for a wedding. After Jay hunted Ashley down via social media, they began a relationship and were engaged within six months. Ashley worries about the age gap between her and her young lover, but he seems unconcerned. In the preview, he can be seen telling her can't wait to "give her the D every day."
TMI! TMI! TMI!
Ashley's friends are concerned for her.
"She's so eager to be in love, she lets red flags just go!" Ashley's friend tells us.
Colt & Larissa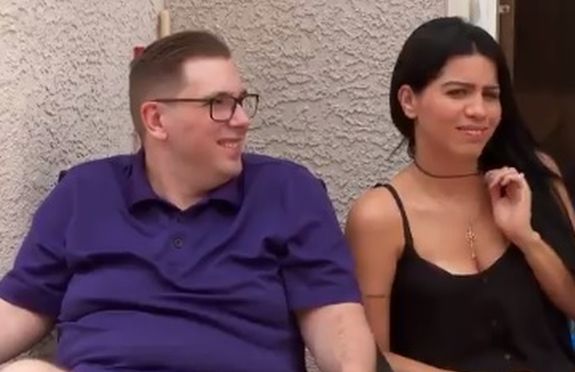 Colt, 33, is a mama's boy who met his 31-year-old fiancé Larissa on an online dating website. They met in Mexico and Colt proposed just five days later.
Colt is worried that Larissa might not get along with his mother (who he apparently still lives with?)
"She's beautiful, she's sexy, but she has 90 days to get to know my mother," Colt tells us in the trailer.
(Cue the "Psycho" music….)
Colt's loved ones don't trust that Larissa is in the relationship for love.
"That bitch is in it for his money, period!" one guy tells Colt of Larissa in the trailer. "She's taking advantage of you and you need to f**king realize!"
Steven & Olga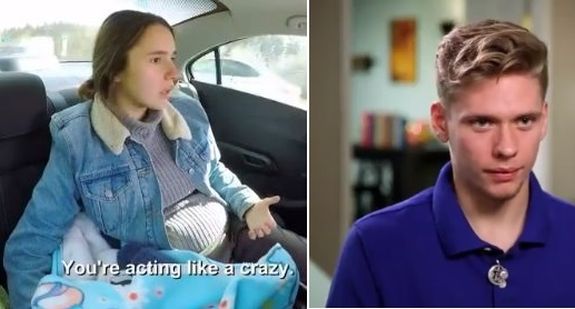 Steven and Olga are both 20. They met when Russian-born Olga was visiting the U.S. for the summer. Olga learned she was pregnant just six weeks later, and she and Steven have been raising their son in the United States. However, her visa still hasn't been confirmed and Steven is afraid she might take his son back to Russia.
In the trailer, the couple is seen arguing (with Olga accusing Steven of "acting like a crazy.") Steven is worrying about making a lifelong commitment to Olga.
"I don't know if I'm ready to be married for the rest of my life," he says. "It wouldn't have happened without a baby."
"90 Day Fiance" Season 6 premieres October 21 on TLC.
Watch the trailer below!
Get excited! The series that started it all is BACK. #90DayFiance returns Sunday, October 21st at 8/7c. pic.twitter.com/X04k9ynmso

— TLC Network (@TLC) September 20, 2018
(Photos: TLC)