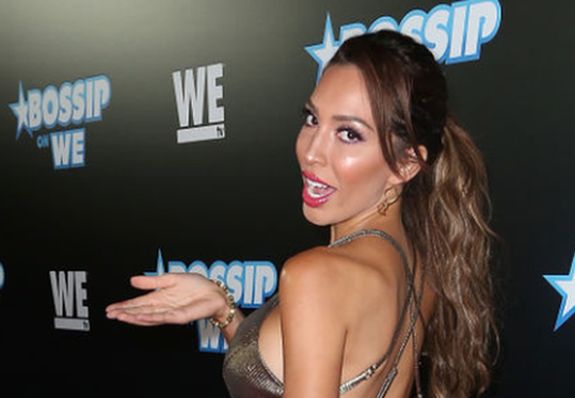 Farrah Abraham still insists she's not guilty of resisting arrest or battering a Beverly Hills Hotel employee back in June— and the former Teen Mom OG star is willing to go to trial to prove it!
Farrah attended a pre-trial hearing on Friday in regard to the two misdemeanor charges filed against her in July by the Los Angeles District Attorney's Office. Naturally, she Instagram-Live'd herself all the way to the courthouse (as you do), proclaiming her innocence but admitting she was scared to go to court. 
"I better not be found guilty of anything," Farrah said on Instagram Live the morning of her court hearing. "I'm nervous, I've been stressed out. I have anxiety about all this."
The Ashley can confirm that Farrah has yet another pre-trial hearing scheduled for November 2 in Los Angeles.
In August, she pleaded not guilty to both the misdemeanor charge of Battery and the misdemeanor charge of Resisting Arrest, turning down the plea deal offered to her by the prosecutor because she refused to plead guilty.
On Friday, Farrah maintained her innocence in her Instagram rant.
(She still believes that what took place at the Beverly Hills Hotel that night was "incrimination of a celebrity." The Ashley will give you a minute to let that all soak in…)
"Stand firm for whatever you believe in, do not say you're guilty for something and take a plea deal. If you did not do something…" Farrah said in her pre-court Instagram Live video. "Stand firm if you guys have court or anything. I know it's stressful.
"For the record, I never trespassed," she added. " For the record I never battered someone. That would be a no-no and I never resisted an officer… I'm never living in Beverly Hills ever again! It is trouble!"
(Surely, the city of Beverly Hills will be mourning the loss of Farrah as a resident for years to come…)
Farrah did not bring her nine-year-old daughter, Sophia, to Friday's hearing. She did, however, tell her followers that she's been using the training for her upcoming "anti-bullying" boxing match to help her deal with the stress and anger the court case has caused her.
Last month, Farrah told Radar Online that she is not crazy and she does not have trouble controlling her anger.
"I am not accepting the offer because I'm not guilty," Farrah told the site. "I have gone through a lot of counseling and therapy. I am also very mentally stable and have no aggressive issues."
As The Ashley previously told you, Farrah is currently filming the second season of MTV's Ex on the Beach. She was allowed to leave the filming location in order to attend her court date.
Just for giggles, wanna see the video of Farrah getting arrested in June? Of course you do!
RELATED STORY: Farrah Abraham Rejects Plea Deal in Court Case: Insists She's Not Guilty & Says This is "Incrimination of a Celebrity!" 
(Photos: Maury Phillips/Getty Images; Instagram)