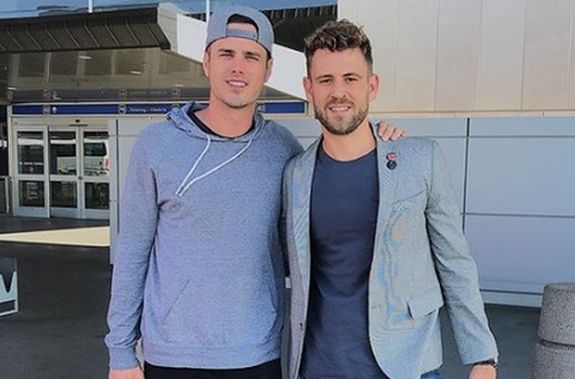 Former Bachelor stars Nick Viall and Ben Higgins have issued a warning to new Bachelor Colton Underwood: prepare to be forever changed by the experience.
Ben and Nick, who starred on Seasons 20 and 21 of the show, respectively, spoke to Entertainment Tonight on the red carpet of the 2018 iHeartRadio Music Festival last weekend, revealing how hard it is to be the Bachelor, and how much taking the role ultimately affected their lives.
"I've never been the same," Nick said of his life after 'The Bachelor.'
"I never will be the same," Ben agreed.
"There's a lot of pressure that comes from [being] the Bachelor and you feel that pressure going through the process," Nick offered. "And that part can eat you alive."
Ben stated that he has no doubt Colton will be swallowed up by the experience, just as he and Nick were.
"It destroyed me," Ben said of being on the show. "I was always on edge. I was always waiting for something to erupt and occur that caused havoc in the [Bachelor] house. I just didn't allow myself to be kind, of like, at peace.
"I hope [Colton's] able to do that," Ben added. "But it's emotionally taxing."
Both Nick and Ben ended up proposing at the end of their seasons, but both engagements ended before a wedding could take place. Nick said that, as hard as it is to be the Bachelor, the period after the show ends is even harder.
"It's that much more difficult post-filming to try to, you know, protect that relationship," said Nick, whose engagement to Vanessa Grimaldi ended about five months after it was announced during his season's finale.
Earlier in the interview, both Ben and Nick confirmed that they are currently single. However, Nick has made it clear that after several appearances on 'Bachelor' franchise shows, he has no interest in ever being the Bachelor again. In fact, last month, he told Us Weekly that he would have to be forced at gunpoint to sign on for the role again.
"Imprisonment?" Nick said when asked what it would take for him to do another season as the Bachelor. "I don't know. A gun?"
However, Ben was reportedly on Bachelor producers' short list of potential Bachelors for the upcoming season. (ABC exec Robert Mills confirmed that the producers were considering Ben for Season 23. The role ultimately went to Colton, though.)
A source told Us Weekly that Ben– who lasted over a year with his pick, Lauren Bushnell— would at least consider trying the show again to find love.
"He's open to the process and really believes that he can find true love on the show," a source told the magazine. "But right now is not the right time."
Colton's season of 'The Bachelor' is currently filming and will premiere in January on ABC.
Watch Nick and Ben's interview below!
(Photos: Instagram)