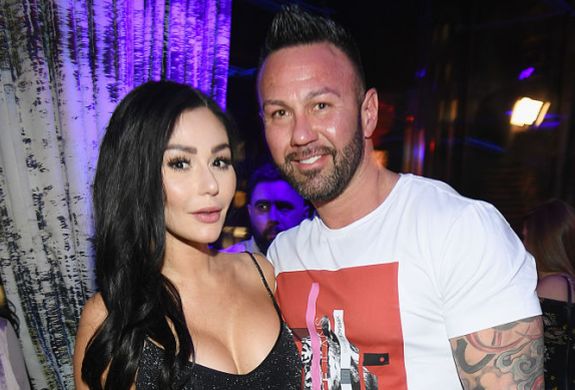 After nearly three years of marriage, two kids, and plenty of Jersey Shore drama, it looks like the marriage of Jenni "JWOWW" Farley and Roger Mathews has finally imploded.
According to New Jersey newspaper Ashbury Park Press, Jenni filed for divorce from Roger on September 12. The filing, which took place in Ocean County, New Jersey, cited "irreconcilable differences" as the reason Jenni was seeking a divorce.
According to the filing, Jenni and Roger's marriage has been on the rocks for at least six months.
"The Plaintiff and the Defendant have irreconcilable differences which have caused the breakdown of the marriage for a period of at least six months which make it appear that the marriage should be dissolved and that there is no prospect of reconciliation," the complaint read, according to APP.
Jenni– who is currently starring on Jersey Shore Family Vacation— has yet to comment on the divorce news.
Back in August, Roger posted some screenshots of a text conversation he had with Jenni to his Instagram account. He captioned the photos "Convos with the ex wife. Or soon to be." Most of Roger's followers assumed he was kidding, but now it looks like he may have been hinting of the future. The photos and caption were posted just 22 days before Jenni filed for divorce.
Jenni met Roger while she was appearing on the original 'Jersey Shore' series. The couple went on to star on the 'Jersey Shore' spin-off, Snooki and JWoWW. They were married in 2015.
APP reports that Jenni is seeking joint custody of their children, Meilani and Greyson, but wants primary residential custody of them. She is also seeking child support from Roger, and want him to continue to provide health insurance for them and help pay their medical costs.
"Farley is seeking life insurance on behalf of the children and to be named a trustee on the policy,"the site reports. "She is asking for equitable distribution of all property acquired during the marriage."
UPDATE! After news of the divorce filing broke on Thursday, Roger posted a video to his Instagram account, confirming that the news is true.
"My wife filed for divorce, it's true," he said. "I'm just going to keep it simple: I don't blame her. There's no cheating or any dumb s**t or any juicy details. She just grew tired of the repetitive pattern that we fell into. Again, I'm not going to get into details, but it was a repetitive pattern and not a good one.
"Here's what's also true," Roger said. "I'm not done fighting. I'm going to win my wife back. I'm going to win her affection back. I'm going to win her love back. I have no intention of being a single dad. We're in counseling so there is hope. It ain't over until the fat lady sings."
Jenni has yet to address the divorce filing.
( Dave Kotinsky/Getty Images; Instagram)