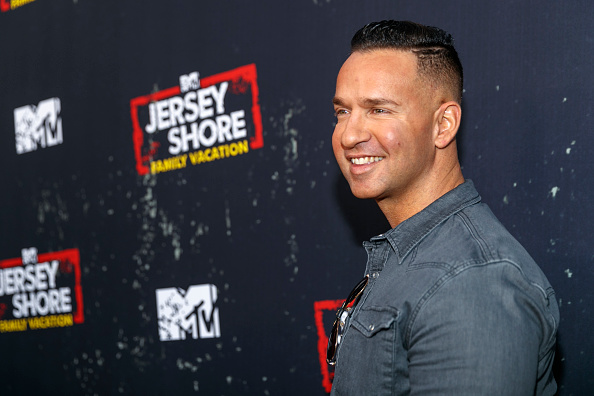 The entire Jersey Shore cast came out to support their roommate, Mike "The Situation" Sorrentino on Friday, as Mike appeared in a New Jersey courtroom to be sentenced for the tax evasion crimes he pleaded guilty to in January.
Mike just received a sentence of eight months in federal prison, as well as two years of supervised release.
Before heading into the courtroom, Mike got hugs and words of encouragement from Nicole "Snooki" Polizzi, Jenni Farley, DJ Pauly D, Deanna Cortese, Angelina Pivarnick and Ronnie Ortiz-Magro. The cast all stood outside the courtroom, dressed in black to show their support.
Back in January, Mike's attorneys stated that they hoped the judge would show Mike leniency, due to the productive, sober life he's been living for the past few years.
"The plea terms call for a balance between punishing the wrong committed and conditions that facilitate Mike living a productive, law-abiding life moving forward," the statement read. "Following through on this plea agreement, Michael intends to pay restitution before sentencing."
The judge did seem to show Mike leniency, given that the 'Jersey Shore' star could have received a sentence of up to five years in prison, had the judge given him the max sentence allowed within his plea deal. (Without the plea deal, Mike could have been looking at up to 15 years in prison.)
Mike fared better than his brother, Marc Sorrentino, who was sentenced on Friday to two years in prison for similar crimes. Marc was last seen on reality TV starring on Marriage Boot Camp: Reality Stars Family Edition with Mike and their other brother, Maximo.
As The Ashley has previously reported, Mike and Marc were charged in 2014 with failing to pay all of the federal income tax they owed on nearly $9 million they earned between 2010-2012. In April 2017, the Sorrentino brothers each received an added charge of "conspiring to defraud the United States." At the time, Page Six reported that the brothers filed tax returns that "understated gross receipts, claimed fraudulent business deductions, and disguised income payments made to the brothers."
"They also stand accused of commingling their business and personal bank accounts so that they could get away with spending the money on 'high-end luxury vehicles and clothing,'" the site reported.
Earlier this week, Mike's attorneys argued that Mike's substance abuse played a factor in him committing his crimes.
According to pre-sentencing memos obtained by the Associated Press on Thursday, Mike's lawyer stated that Mike should receive probation because he "played a minor role in the alleged conspiracy," and has since worked hard to overcome his substance abuse issues since he was first arrested. (On Thursday, Mike announced that he was celebrating 34 months of sobriety.)
In the same memos, the prosecutors in the case reportedly argued for a 14-month sentence for Mike, in hopes of making an example that "tax fraud will be met with real punishment." They also noted that Mike's drug issues did not hinder his ability to hide his income from the government.
The judge eventually went with a happy medium with the eight-month prison sentence.
It is not yet known when Mike will have to report to prison to begin his sentence. However, he has stated that he plans to marry his fiance, Lauren Pesce, before going behind bars. The wedding will be filmed for the second season of Jersey Shore Family Vacation, which is currently airing on MTV.
"[Mike is] just such a good person. He changed for the better," Snooki told Us Weekly on Thursday. "He's a totally different person. He doesn't deserve this right now, but obviously you gotta get that done."
Watch the video below to see the 'Jersey Shore' cast support Mike and Lauren outside of the courthouse on Friday.
UPDATE! Click here to read the latest info on when Mike will report to prison, and what his sentence means for his wedding to Lauren!
RELATED STORY: Mike "The Situation" Sorrentino To Marry Lauren Pesce on 'Jersey Shore Family Vacation' Season 2
(Photos: Rich Polk/Getty Images; Instagram)