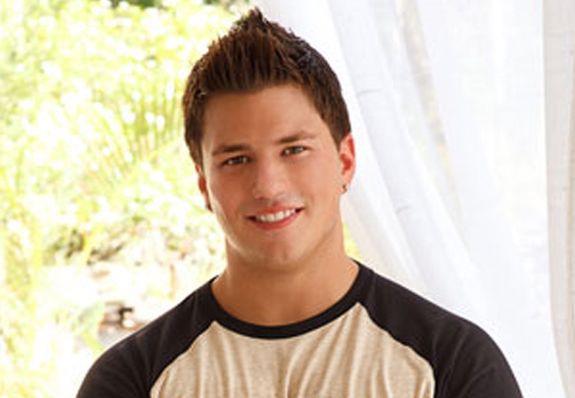 Nearly a week after he was hospitalized for heart failure, The Challenge star Vinny Foti continues to struggle.
Vinny– who starred on three seasons of the MTV reality show– remains in the ICU and, according to the latest update posted by his wife Krista, has now contracted a severe case of bacterial bilateral pneumonia (or "double pneumonia," which is pneumonia that's in both lungs).
In the update, which was posted to the family's GoFundMe page on Tuesday, Krista states that Vinny is still on a ventilator and was scheduled to have surgery on Wednesday.
On Monday, Krista wrote that "the fluid is all drained out of his lungs, he moved his hands and opened his eyes even though they were rolled back. That's a start. He is still in ICU on ventilator."
Vinny first came into the 'Challenge' circuit in 2010 on the "Fresh Meat II" season (where he was partnered with 'Challenge' vet Sarah Rice). He went on to appear in two more seasons of 'The Challenge': Season 20 "Cutthroat" and Season 22 "Battle of the Exes," the latter of which he was once again paired with Sarah.
After he was disqualified from "Battle of the Exes," Vinny did not appear on any more 'Challenge' seasons.
#NewProfilePic pic.twitter.com/jVOT4v5sWD

— Vinny Foti (@vinnyfotimtv) July 18, 2017
Since leaving 'The Challenge' world six years ago, Vinny got married and became the father of two little girls. He is now 34 years old and works as a bartender at the Wynn Casino in Las Vegas, according to his Twitter profile.
At press time, the GoFundMe fundraiser has raised $3,350 of its $20,000 goal. The fundraiser's organizer states on the page that the money raised will be used to pay for "medical expenses and other things needed for the family."
If you'd like to donate to Vinny's GoFundMe page, click here!
RELATED STORY: Former 'The Challenge' Star Vinny Foti Suffers Heart Failure, Currently in ICU 
(Photos: MTV, Twitter)