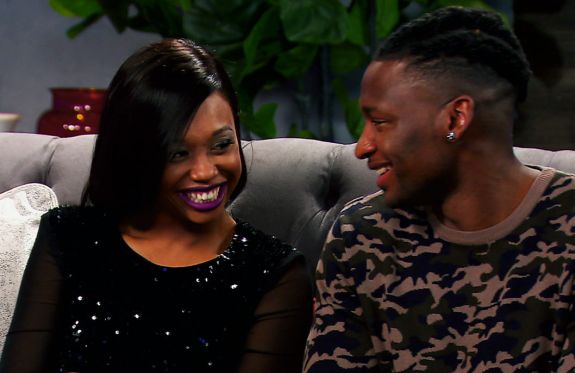 The second Married At First Sight baby has arrived!
Shawniece Jackson and Jephte Pierre, who met and got married during the show's sixth season, welcomed a daughter at the end of August, People magazine confirmed.
The baby girl, whom the couple named Laura Denise (after their mothers), was born on August 20, but for some reason the couple did not announce the birth until this week.
Baby Laura was born three weeks early but weighed in at 5 lbs., 15 oz., and measured 17¾ inches long at birth.
"Seeing my daughter for the first time was so overwhelming," Jephte told People. "Watching Shawniece push her out drew me to tears. Watching her birth has to be the best moment of my young life. It's incredible to think she's all ours."
"Motherhood didn't really sink in until it was time to bring her home," Shawniece told E! News. "It was like meeting someone for the first time and bragging about what you have. Mommy has this for you, look at your crib, we have a nice modern home for you and a really good neighborhood."
Shawniece and Jephte got married minutes after meeting each other during Season 6. Of the three couples from their season, Shawniece and Jephte are the only couple that is still married.
Shawniece announced in April that she was pregnant. The pregnancy announcement came right before the "Decision Day" episode for Season 6 aired.
"I've always wanted to be a mom. I've always felt like that's my purpose in life — to recreate some little Shawnieces in life," Shawniece, who is the oldest of 10 siblings, told People in April.
Jephte–who is the oldest of 14 siblings– also expressed an interest in becoming a dad.
"I can't wait to have my own children," he told People during his 'MAFS' season. "I can't wait to be a father."
Baby Laura is the second baby born to a couple who got married on 'Married At First Sight.' Season 1 couple Jamie Otis and Doug Hehner welcomed their daughter, Henley, in August 2017. The third 'MAFS' baby is due to arrive next year, as Season 5 couple Ashley Petta and Anthony D'Amico recently announced that they are expecting.
'MAFS' fans will get to see Shawniece and Jephte handle parenthood, as the couple (along with Ashley and Anthony) will be starring on the upcoming 'MAFS' spin-off, Married At First Sight: Happily Ever After, which premieres October 30 on Lifetime.
RELATED STORY: 'Married At First Sight' Season 5 Couple Anthony D'Amico & Ashley Petta Are Expecting Their First Child
(Photos: Lifetime, Instagram)