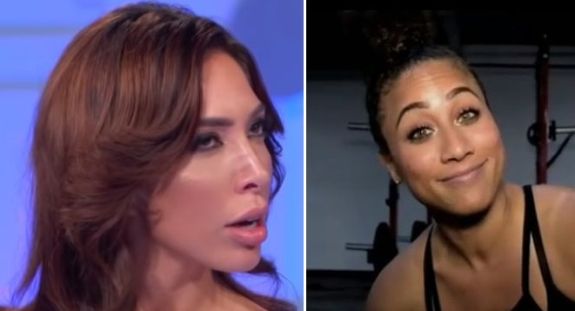 Farrah Abraham's opponent in her upcoming "celebrity" boxing match says she's planning to bring the heat when they step into the ring next month.
Nicole "Hoopz" Alexander, who will be boxing the former Teen Mom star in Atlantic City on November 10, said in a new interview that she is not going easy on Farrah just because it's a "celebrity" fight.
"I'm gonna get in there and fight for real," Hoopz told Detroit's WJLB radio station on Wednesday. 
When the radio show's host, Dr. Darrius, asked Hoopz if she is really planning to hurt Farrah, Hoopz explained that she is, because this is the opportunity she's been waiting for.
"She's an opponent…the people are coming out to see a fight," Hoopz explained. "At the end of the day, we walk around as celebrities and we can't touch anybody [on the shows we're on]. So you're giving me an opportunity to get in the ring and I can actually take something out on somebody else?! How am I gonna get in there and half-ass something?
"[On reality shows] I didn't [fight] because there's a clause [in your contract that says] you cant put your hands on nobody," she added later in the interview.
Although Farrah has been constantly documenting her workouts and training session on social media to prove she's ready to box, Hoopz doesn't seem scared.
"She's training as hard as she can train, I'm probably over-training," Hoopz said.
Of course, because it's Farrah, there has to be a level of nakedness incorporated into her training, which Hoopz seems to find amusing.
"I feel like she's going to not even have a sports bra on," Hoopz said of the Backdoor Teen Mom. "She's been training half naked."
As The Ashley previously told you, Farrah recently "trained" for the match while wearing skimpy lingerie. She live-streamed the "training session" on p0rn-cam site Cam Soda and then auctioned off her sweaty garments to creepers from the site! (AS.YOU.DO.)
Hoopz predicted that, while she and Farrah will be wearing headgear for the fight, Farrah will not be wearing much else.
"She may come out in some nothingness," Hoopz said. "It don't matter, that's how she's gonna fall asleep."
DUN.DUN.DUN! It sounds like Farrah may need yet another new face once this fight is over!
(Photos: CBS, Instagram)