Dakota Meyer may be one of the newest dads on the Teen Mom OG block, but he sure knows how to spill the tea on social media like a pro.
The father of two took to Instagram this week to slam comments made in a social media video by his ex-wife, Bristol Palin, in which Bristol recounted events including the birth of the couple's oldest daughter, Sailor, whom Bristol said was without a dad after her 2015 birth.
"Yes, we got pregnant right after our engagement. We planned a wedding with out families and friends and Bristol decided to leave me a week prior," Dakota wrote in an Instagram post on Wednesday.
Despite the unexpected split, Dakota said he spoke with the Palin family every month and made it clear that he planned to be a father to his then-unborn daughter. Dakota said he also reached out to Bristol before the baby's birth in order to establish a co-parenting plan, to no avail.
"She told me to go through the courts to establish paternity," he continued. "I wasn't invited to the birth and found out my child was being born on Twitter—can you imagine being a dad and not being allowed to be at your child's birth?"
Dakota said his absence from his daughter's birth was the result of Bristol denying his paternity until it could be proven, "at which point Sailor was born."
"For Bristol to state that Sailor didn't have a dad is laughable—what really happened is Bristol kept our daughter from having a father present at birth and until the courts ruled that I was her father," he explained. "I can promise you this, Sailor and Atlee always had a dad, and always will have a dad."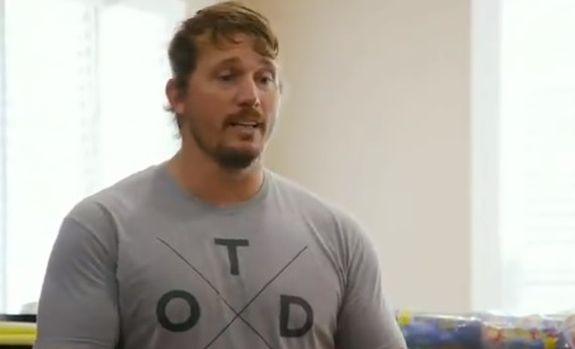 Though Dakota and Bristol ultimately ended up tying the knot in June 2016 (and welcoming their second daughter, Atlee a year later), their reconciliation was short-lived. The couple announced their separation in February of this year and their divorce was finalized in August.
The pair's deteriorating marriage has been a main storyline in the new season of 'Teen Mom OG,' with fans getting a seemingly intrusive look into the couple's relationship issues as well as Dakota's struggles with PTSD—something Dakota doesn't enjoy having to watch play-out on screen. In response to a follower asking how it feels to see himself on TV, Dakota kept the honesty rolling.
"I hate it but I had to in order to get my kids," he said.
After another person shamed him for putting his baby mama drama on social media, Dakota explained that he's just playing fair.
"If she's gonna say s**t my kids will read later on, they're gonna read the truth."
RELATED STORY: 'Teen Mom OG' Season 7B Episode 1 Recap: One New Baby, Two New Moms & the Same Old Storylines
(Photos: MTV, Instagram)