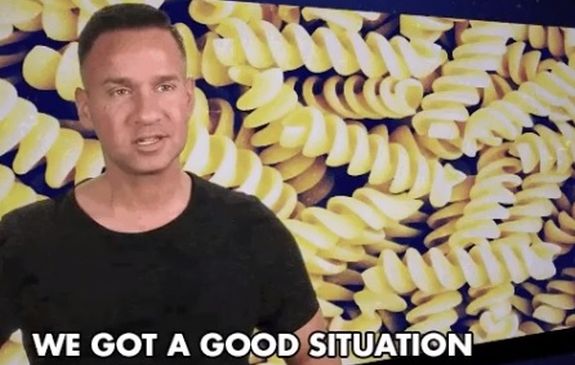 Mike Sorrentino is heading down the aisle– right before he heads to prison!
The Jersey Shore star, who earlier this month was sentenced to eight months in federal prison for his tax evasion crimes, announced on Friday that he will be marrying his fiance Lauren Pesce next month.
"#Thehitchuation is happening November 1st, 2018," Mike wrote on Instagram. "I will be marrying @lauren_pesce My rock, my best friend, my better half & my soul mate. You are my everything & I am so excited to call you Mrs Situation ? #gymtanlaurens"
Mike's lawyer, Henry Klingeman, revealed to reporters on the day of Mike's sentencing that Mike was planning to marry Lauren before entering prison. The lawyer stated that Mike has between 30 and 60 days following his sentencing to surrender himself into prison, leaving just enough time for "The Sitch" to get hitched.
In addition to the eight-month prison sentence, Mike also received two years of supervised release as part of his judgement. The Blast reports that, once Mike serves his sentence, he will be required to follow a long list of rules.
Court documents state that Mike "must provide the U.S. Probation Office with full disclosure of your financial records, including co-mingled income, expenses, assets and liabilities, to include yearly income tax returns."
Mike is also prohibited from opening or maintaining his own (or a joint) bank account, without getting permission from the U.S. Probation Office. He must also cooperate with the IRS and provide documentation for all tax returns, expenses, etc. And, obviously, he must pay his taxes and all penalties going forward.
He can not open up any new credit lines, which means Lauren(s) will have to be the one to open any new credit cards for the couple. It also means that if Mike and Lauren want to purchase a home together, it will have to be solely in Lauren's name.
Mike was also ordered to submit to mental health treatment.
"You must undergo treatment in a mental health program approved by the U.S. Probation Office until discharged by the Court," the judgement reads. "As necessary, said treatment may also encompass treatment for gambling, domestic violence and/or anger management, as approved by the U.S. Probation Office, until discharged by the Court."
(Mike's lawyer confirmed to The Blast that "There is nothing in [Mike's] case concerning gambling or domestic violence" and that it was only included because it is standard language used in judgments.)
Since Mike's new monetary restrictions may make it hard for him to cash those wedding checks, he and Lauren have created a wedding gift registry to help their guests (and fans!) when it comes time to buy them a wedding gift.
Mike posted a link to his gift registry to his Twitter. The elaborate registry at Crate & Barrel contains dozens of gift ideas.
Most of the requested gifts are not cheap– from the $599 Kitchenaid mixer to the $549 blender. Mike and Lauren are even asking for extravagant gifts for their canine pals: the requested dog bed rings up at $180! Also on the list? A $109 hamper because… GTL (Gym Tan Laundry!)
Other items requested on the registry reflect Mike's love of food. Sitch is asking for a $70 cake stand and a $49 cake serving set (perfect to hold those Funfetti cakes!)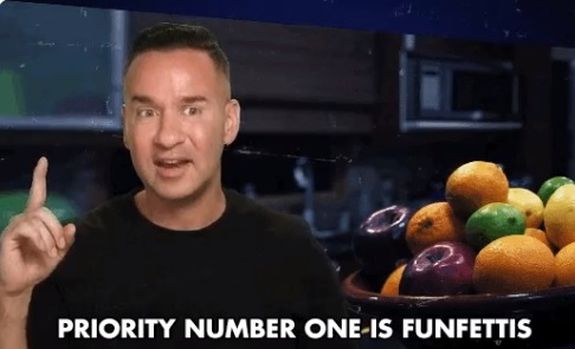 Wanna see their gift registry? Of course you do!
Mike and Lauren have confirmed that their wedding will be filmed for Jersey Shore Family Vacation Season 2, which is currently airing on MTV.
RELATED STORY: Mike Sorrentino's Lawyer Reveals When 'Jersey Shore' Star Will Report to Prison
(Photos: MTV, Instagram)