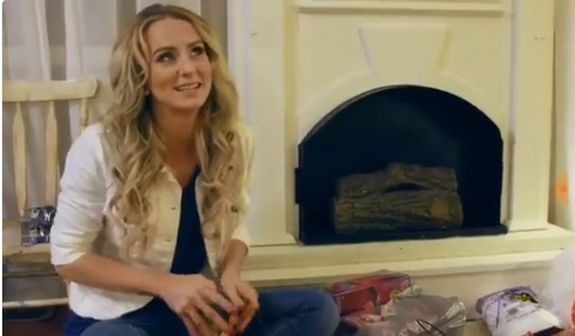 The first episode of Leah Messer's Life Reboot podcast has been released and it's…. well… kind of confusing.
The Teen Mom 2 star has teamed with Lindsay Reilly (who created the "Live Your Standard" life transformation program Leah uses) and Brian Scott (who legit introduced himself as "founder of everything"…um?) to talk about how to "live your standard," "stand in your truth" and "live from the inside out, not the outside in."
While the trio mainly talked in sentences that sounded like they were pulled straight from inspirational wall signs, Leah did discuss a few topics of interest. She opened up about a dark time in her life where she was experiencing suicidal thoughts. 
"I had these expectations of who I was supposed to be as a mom, as a wife, as a person. I never reached them," Leah said. "I truly didn't love myself. I didn't care if I was ever here. I was suicidal."
In a new interview with Us Weekly, Leah revealed that the dark period in her life she's referring to was in 2015, when she was battling her ex Corey Simms for custody of their twin girls.
"I wasn't in the greatest place mentally and then it was affecting me physically, like it almost cost me my children. … I became suicidal. It was a struggle," Leah told the magazine. "I think that would be the lowest point [of my life]."
On her podcast's first episode, Leah said that the "Live Your Standard" program helped her pull herself out of that dark place.
"[The best part to me was] to be able to come up from that and truly be able to love myself and be able to teach my girls to love themselves and honor their feelings and know who they truly are," Leah said.
She said she eventually had to learn that "you do have a purpose, and this life is worth living."
During the podcast, Leah also talked about why she feels she was unsuccessful in her previous relationships with men. (As 'Teen Mom 2' fans know, Leah has been married and divorced twice already: once to Corey and once to Jeremy Calvert.)
"In my past relationships… [I] wanted to feel loved, and wanted to feel worthy and I looked for that in other people and expected that from men," Leah said.
"I was always trying to please them and not being who I truly was. I wanted to be loved and wanted to be accepted," she said, adding that the program has helped her in her dating life. "Now, dating is just different because I know what I want."
"I love myself more than I ever have before," she said. "[I'm] not dependent on anyone else for that… It's so liberating because I would let everything affect me, or I would play victim. When I finally came to a place where I was like, 'I'm not going to' I just felt so free."
The Ashley broke the news back in July that Leah is now in a relationship, after being single for a long period of time. She is currently dating West Virginia local Jason Jordan.
To listen to Episode 1 of Leah's Life Reboot click here.
RELATED STORY: 'Teen Mom 2' Star Leah Messer is Starting a Podcast; Says It's Nothing Like Kail Lowry's Podcast
(Photos: MTV, Instagram)