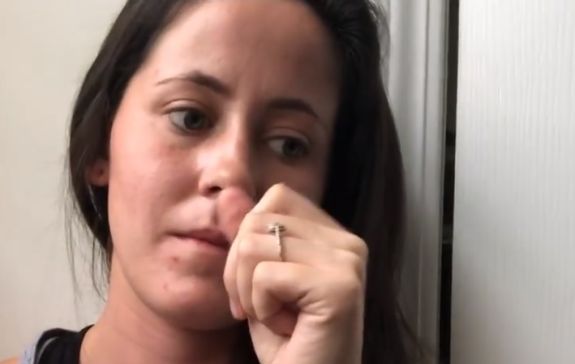 Jenelle Evans made her first appearance on social media in over a week on Thursday to update fans on her situation following her frantic 911 call earlier this month in which she alleged her husband David Eason pinned her to the ground and injured her collarbone while he was drunk.
In a video posted to her YouTube channel, Jenelle first tells her fans that she's hiding in her closet to make the video. (She clarifies that she's hiding from her kids.)
After The Ashley broke the news that emergency personnel were called to The Land on October 13, Jenelle has issued several statements to spin the story in various ways, but this marks the first time she's addressed the domestic violence rumors on-camera.
"I've been wanting to get some things off my chest lately because obviously my name can't stay out of the news," Jenelle says in the video. "I just want to let you guys know that I'm completely fine… I know everyone's concerned about me and I know everyone wants to know 'Is she OK? How are the kids?' Everything's fine."
Jenelle then stated that she knows what a domestic violence situation is, given that she's been in several of them.
"I've been in so many domestic violence situations in the past that I would not put up with it now," Jenelle says. "I don't know why you guys think I would continue to stay in this relationship if I was being abused… I can tell you, my past, when MTV didn't film and we took a break from filming, it was horrible.
"I've been in two or three relationships that were domestic violence, and what did I do? I kept Jace away from it. I had just him at the time," she added. "When I had my visits, I made sure I was alone and that other person wasn't around me. I don't want to give any names because I don't want anyone blowing up my social media because I said s**t."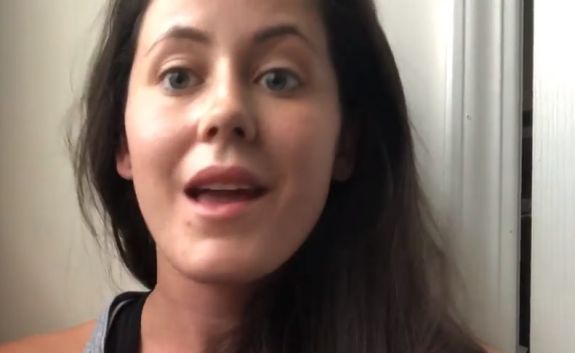 As 'Teen Mom 2' fans know, several of Jenelle's boyfriends have been arrested for domestic violence in the past after altercations with her. In 2012, Jenelle's then-fiance Gary Head was arrested for assault on a female (among other things) after a fight with Jenelle. Gary discussed this incident during the 'Teen Mom 2' "Ex Files" special that aired in December 2017.
Nathan Griffith, another former fiance of Jenelle's, was arrested for criminal domestic violence following an altercation with Jenelle in 2015. That incident occurred as MTV cameras rolled, and eventually ended up airing on 'Teen Mom 2.'
Anyway, in her YouTube video, Jenelle insisted that she's never falsely accused anyone of getting violent with her.
"Every time I tell you guys about it, or every time I open up, you guys are like, 'No, she's lying, she's putting him in jail, she's such a f**king liar.' Well, that's not the case at all," Jenelle said. "I was always telling you the truth about everything that happened with every one of my relationships. And if you don't believe me, I don't know what to f**king tell you."
Jenelle then stated that she and David are living a happy life together on The Land.
"With that being said, my mom is here behind closed doors all the time now that she's involved in my life again, and all my close friends and family, they know I'm doing fine. They know I'm happy," Jenelle said. "Every time I told you guys I was in a domestic violence situation, you would not believe me. Now that I'm saying that I'm not, you guys are trying to tell me something different. I'm just sick of hearing it. Just stop."
Oddly, Jenelle never actually brought up her 911 call in the video, or the incident that caused her to make that call.
"You guys can tune into 'Teen Mom' this season," she added. "You'll see all this f**king drama unfold."
As The Ashley told you last week, Jenelle and Barbara did film about the October 13 incident; however, the version of the story that Jenelle told while filming varied greatly from the one she told the 911 operator on the night of the altercation.
"Jenelle filmed about it with [her mother] Barbara and basically said they were both super drunk and she just tripped and fell into David and they both thought the other was attacking them, so that's how it got blown out of proportion and why she called 911," a behind-the-scenes source told The Ashley last week. "The story was really out there."
Anyway, you can watch Jenelle's video below!
(Photos: YouTube, Instagram)