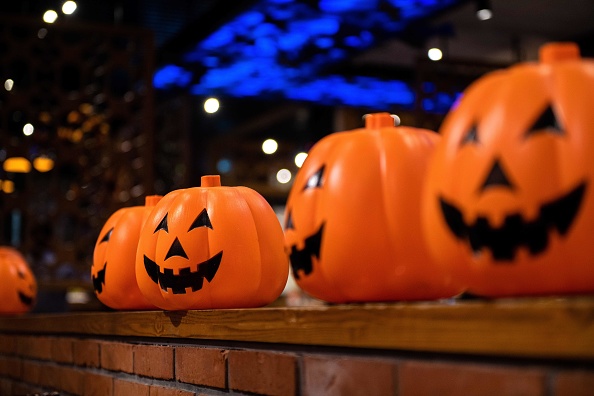 Halloween is only a day a way, which means you're probably elbow-deep in pumpkin guts (or the bowl of candy meant for the trick-or-treaters). Carving pumpkins is one of the ways to get into the Halloween spirit, and some reality TV fans have taken their jack-o-lanterns to a whole new level by making them look like our favorite reality TV stars!
To celebrate all of the upcoming Halloween spookiness, The Ashley has put together this collection of pumpkins that have been carved to look like reality TV stars' mugs!
This Gordon Ramsay pumpkin looks like it came straight out of Hell('s Kitchen):
Well @GordonRamsay, is this pumpkin carving better looking than you? A great likeness but it doesn't swear!! ?? pic.twitter.com/wzHYFxpaY3

— manorfarmfruits (@manorfarmfruits) October 21, 2018
It's a "Cry-dash-a-lantern," if you will…
Why does my pumpkin look like kim kardashian's crying face pic.twitter.com/aCjpHDzNqS

— mackenzie (@Mackenzie_Simms) October 29, 2017
'The Voice' coach Blake Shelton in pumpkin form:
It's a pumpkin. It's me. It's me on a pumpkin. so damn cool @SmithworksVodka pic.twitter.com/Yf61CouERW

— Blake Shelton (@blakeshelton) October 24, 2018
Even the pumpkin RuPaul looks fierce:
From the clever & crafty mind of @PadmaLakshmi LOVE IT!!! #Halloween2018 #DragRace pic.twitter.com/rok5qsgloU

— RuPaul (@RuPaul) October 26, 2018
The Ashley is including this because, technically, Donald Trump is still a reality TV star…Don't don't get all political here. Take a breath…)
Happy #NationalPumpkinDay! Here are some Trumpkins to uh… "brighten" your day? pic.twitter.com/YQ27aTh0Pf

— Victoria Veruca Salt (@trumpanzeetamer) October 26, 2018
Is the "Seacrest out" catchphrase that Ryan was trying to make happen for a while carved into the Seacrest-o-Lantern?
Oh my gourd…it's me #TheNextIdol pic.twitter.com/m1gVopIz8r

— Ryan Seacrest (@RyanSeacrest) October 24, 2018
The Steve Harvey pumpkin is here and ready to announce the incorrect winner of the pumpkin carving contest…
#NationalPumpkinDay pic.twitter.com/ZkF2GTw3sV

— Steve Harvey (@IAmSteveHarvey) October 26, 2018
These 'American Idol' pumpkins are the most-interesting things to come out of the show in years…
#NationalPumpkinDay? How GOURD-GEOUS!

We still can't get over how *perfect* these pumpkins are of our Judges and Host! How are you decorating for Halloween?! ?? pic.twitter.com/qJqj9yquW9

— American Idol (@AmericanIdol) October 26, 2018
The carver of this Kardah-a-lantern wrote the funny caption for The Ashley…
Just going to sleep now and see that my Kim kardashian pumpkin has been burning for well over 24 hours now – not bad for a girl with no talent xx pic.twitter.com/y30sPZKMgx

— Emma (@emmmamcguigan) October 28, 2018
For more of The Ashley's Halloween posts, click here!
(Photos: NICOLAS ASFOURI/AFP/Getty Images; Twitter)