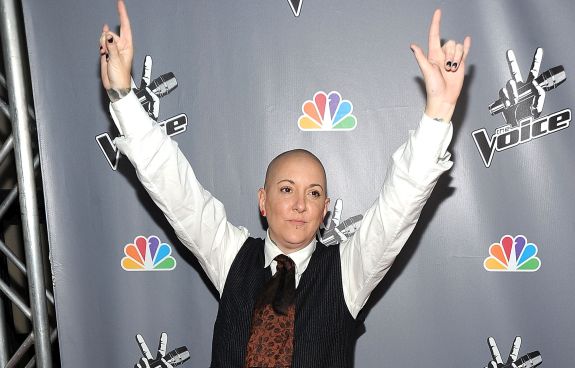 Beverly McClellan, who competed on the very first season of The Voice back in 2011, has died at the age of 49.
The Blast reports that Beverly had been battling Stage 3 endometrial cancer since March and, despite treatment, took a turn for the worse in recent months. The site reports that Beverly died on Tuesday surrounded by her family and friends.
Beverly became one of the most-memorable contestant ever to appear on 'The Voice' when she belted out a jaw-dropping rendition of Janis Joplin's "Piece of My Heart" during her blind audition. She was chosen by coach Christina Aguilera and went on to finish in third place for the season, behind winner Javier Colon and runner-up Dia Frampton.
Coach Ceelo Green commended Beverly for daring to be different. As an out-and-proud lesbian who chose to be bald, she was very different from the potential pop stars competing on American Idol at the time.
"If someone tried to make you compromise, you'd probably kick some ass," Ceelo told Beverly, who proudly agreed with him.
In a 2011 interview with TV Line, Beverly talked about why she liked 'The Voice,' where the only thing that mattered was what the singer sounded like, not what they looked like.
"I feel like I'm finally, for once in my life, where I need to be, showing the right people, even if it's not something I planned on doing… I thought, 'S**t, I have just as much chance as anyone else,'" Beverly said. "Am I blown away that I came this far? Yeah. But now I don't want to slow the train down."
Seeing talented, beautiful soul #BeverlyMcClellan passed Tues after a long, courageous battle w/ cancer. We met her when she reached the Final 4 w/ #TeamXtina on #TheVoice

We'll remember her doing what she loved;
belting her heart out on stage ? #RIP pic.twitter.com/sIuzJjaZpc

— Mark Sundstrom (@106th) October 31, 2018
A GoFundMe page created to help Beverly cover her medical expenses states that Beverly began chemotherapy six months ago, following her diagnosis. The treatment eventually stopped working, and Beverly ended up breaking her femur last week. On October 23, an update on the GoFundMe page stated that Beverly had taken a turn for the worse.
Fans and singers who competed with Beverly during Season 1 tweeted their memories of her.
"I am absolutely heartbroken. My dear friend & fellow S1 @NBCTheVoice alum, @beverlyshane has died. Truly a unique soul with a beautiful heart, full of passion & an amazing talent," Nakia wrote.
"This year has taught me to value life and enjoy every moment," Tyler Robinson tweeted. "Last night I received news that Beverly McClellan, one of my closest friends and someone who taught me more than a few valuable life lessons, has been taken from this world by cancer. This isn't the first time this year cancer has affected my friends and family, and I know that Uncle Bev and her memory will live on through her music; her light will be carried by those who love her."
Beverly was 49.
Watch her blow the coaches away during her Season 1 blind audition:
(Photos:  Frazer Harrison/Getty Images)