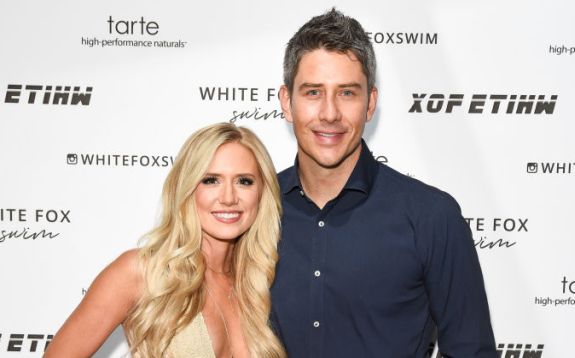 Arie Luyendyk Jr. and his bride-to-be Lauren Burnham are set to get hitched in January, and it looks like the couple from The Bachelor will have an unexpected guest at their wedding!
The couple, who met during Arie's season of the dating reality show, announced on Wednesday that Lauren is pregnant with their first child. In an interview with Us Weekly, Arie and Lauren said that the pregnancy was not planned.
"We weren't trying, but we are so excited," Arie told the magazine. It's going to be a whole new chapter in our lives."
Lauren said that she will have to alter her wedding dress to accommodate her baby bump. (The couple says Lauren is due in June, so Lauren will likely be showing by their January wedding.)
"The first thing we thought of was, 'Oh my gosh. Our wedding,'" she told Us. "Obviously we're not married yet, but this is the way it happened — and this is probably the way it was meant to happen!"
On Wednesday, Arie posted to Instagram, expressing his excitement about becoming a first-time dad.
"Nothing compares, absolutely nothing compares to the moment you find out you're going to be a dad!" he wrote in the caption of a photo of him and Lauren holding sonogram photos. "We cried, we laughed and it really was such a special moment for us, we're so freakin' happy!"
"Our greatest adventure begins June 2019!" Lauren captioned a similar photo.
Lauren and Arie have already announced that their wedding will take place in Maui, Hawaii on January 12, 2019. The couple, who became engaged during the "After the Final Rose" taping in March, have been living together since April.
As 'Bachelor' fans know, Arie picked Becca Kufrin at the end of his season, but, after proposing to Becca, decided he wanted to be with Lauren instead. This, of course, resulted in one of the "most dramatic moments in 'Bachelor' history" (for real!)
Anyway, the couple has already stated that their wedding will not be turned into a 'Bachelor' Wedding Event.
"[It will] not [be] on TV," Arie said on The View in May. "Just, you know, a close group of friends. Probably 100 guests."
Baby Luyendyk (who already has his or her own Instagram account…naturally) will be the fourth child born to a couple that met on 'The Bachelor.'
Season 17 star Sean Lowe currently has two sons with his wife/final pick, Catherine Guidici, while Season 13 star Jason Mesnick and his now wife Molly have one child together.
If you're including couples who met on The Bachelorette, the child total rises to 10. Season 1's Trista Rehn and Ryan Sutter have two kids, as do Season 7's Ashley Hebert and J.P. Rosenbaum. Season 9 stars Desiree Hartsock and Chris Siegfried have a son together and another child on the way.
RELATED STORY: 'Bachelor' Couple Arie Luyendyk Jr. & Lauren Burnham Announce Wedding Date & Location 
(Photos: Presley Ann/Getty Images; Instagram)