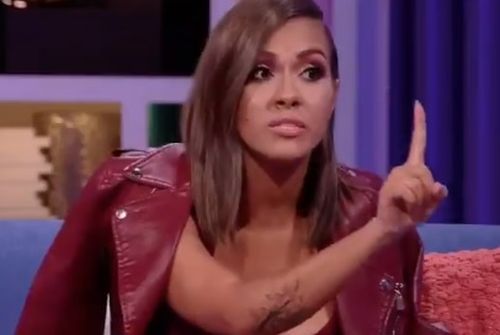 Despite ongoing rumors of cheating, Teen Mom 2 star Briana DeJesus says she has no hard feelings for her ex-boyfriend Javi Marroquin or his (most-recent) baby mama, Lauren Comeau.
As The Ashley previously reported, Javi and Lauren welcomed their son, Eli, last week. Shortly after the announcement of Eli's reported "early birth," some began to speculate that Javi had knocked up Lauren before calling it quits with Briana, which allegedly happened in February.
However, Lauren told Radar Online that her son's early birth was the result of her preeclampsia diagnosis, not a case of a shady timeline cover-up.
"I'll tell you the day I conceived! March 10. We know the timeline… ," Lauren said. "We know when we conceived. We haven't seen each other in February. There was no possible way of cheating."
https://www.instagram.com/p/BgUqVxTHxAY/?utm_source=ig_web_copy_link
(According to Javi's Instagram posts, he and Lincoln—his son with Kailyn Lowry—were in Lexington, Kentucky, for Comic Con event on March 10 and Lauren's posts confirm she was there as well.)
Lauren went on to accuse Briana of tainting her experience as a new mom.
"It's frustrating," she said. "You have been a mom twice now. You haven't had the support during your pregnancies. Why would you wish that on a first-time mom?
"You say you've completely moved on," she added. "Just out of respect for me as a first-time mom. Let me enjoy this moment. Don't take it away from me."
After Lauren accused Briana of fanning the flame on the infidelity rumors, Briana set the record straight in an interview with In Touch Weekly.
"To be clear I am only responding to this because it's continuing to be in the press and hence I'm being asked about it," she said. "I never said anyone cheated on me. That never came out of my mouth."
In regard to Javi's murky timeline, Briana confirmed that her surgery (which Javi was very much present for, as filmed by MTV), took place on February 1. Briana went on to say that people came to their own conclusions about when everything had actually taken place, but assured the magazine that "nothing has ever come out of my mouth specifically where I said he cheated on me."
"My relationship with Javi is LONG in the past," she added, noting that she's "very happy" in her new relationship.
https://www.instagram.com/p/Bn6H26EBPS7/?utm_source=ig_web_copy_link
"I wish Lauren and Javi the best with their new child and even congratulated them on social media on the day they announced their baby," she told In Touch.
"As far as I'm concerned, this is a dead issue and I'm continuing to move forward in my life with positivity and people around me that make me happy. And that's that."
Until the reunion, of course…
(Photos: MTV/Instagram)