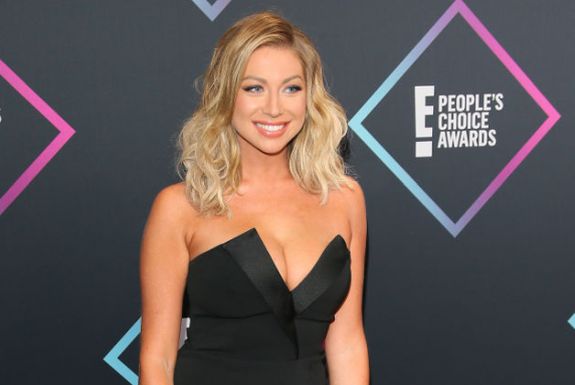 Stassi Schroeder wants to teach you how to be basic.
The Vanderpump Rules star announced on Tuesday that her new book, Next Level Basic: The Definitive Basic Bitch Handbook, will hit the shelves next April. In an Instagram post, Stassi announced her book's title and cover art, and, of course, patted herself on the back for penning the book.
"Y'ALL. I wrote a freaking book!" Stassi wrote in the caption of a photo of her book's cover. "People always say to write what you know. So obvs I wrote about what I know best — being basic. Next Level Basic is out April – AND you can preorder with the link in bio. Like holy s**t, holy s**t. That's my book!"
According to the book's official publisher description, Next Level Basic will help all guys and girls achieve a Stassi-level of "basic"… or something.
"Discover how to embrace your best basic self in this laugh-out-loud funny guidebook from the breakout star of Bravo's hit reality show 'Vanderpump Rules'… There's nothing more boring than people who take themselves too seriously or think that you have to be pretentious to be cool," the book's description reads. "Stassi champions the things that many of us are afraid to love publicly for fear of being labeled basic: lattes, pugs, bubbly cocktails, millennial pink, #OOTD (outfit of the day, obvs), astrology, hot dogs, the perfect pair of Louboutins, romantic comedies…the list goes on and on."
The description also states that readers will get insight into Stassi's personal life, as well as what happens behind-the-scenes of 'Vanderpump Rules.'
"[Stassi] gives you hilarious and pointed lessons on how to have fun and celebrate yourself, with exclusive stories from her own life and on the set of 'Vanderpump Rules,'" the description reads. "From her very public breakups to her most intimate details about her plastic surgery, Stassi shares her own personal experiences with her trademark honesty—all with the hope you can learn something from them."
The 320-page book will be released on April 16, 2019, but is available now for pre-order. Click the link below to order Stassi's book!
(Photos: JEAN-BAPTISTE LACROIX/AFP/Getty Images; Instagram)